Occupy activist beaten, arrested by NYPD faces 7 years in prison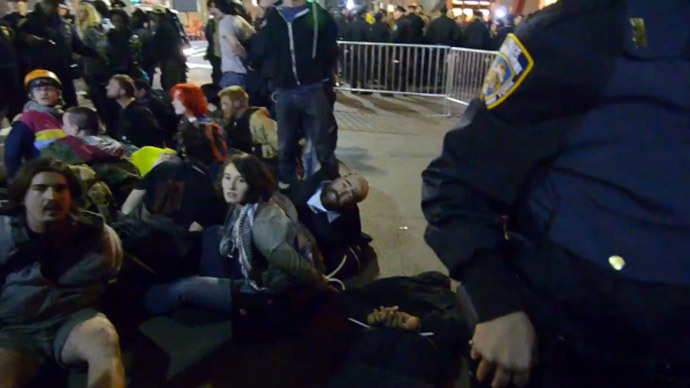 The trial in the case against a 23-year-old activist accused of assaulting a police officer during an Occupy Wall Street demonstration in New York City nearly two years ago finally got underway Monday afternoon in Manhattan.
Prosecutors say Cecily McMillan assaulted a member of the New York Police Department --a felony, during a March 17, 2012 event in NYC that commemorated the six-month anniversary of the OWS protest movement.
McMillan's supporters say the NYPD should be the ones on trial, however, and that the activist could have died while being detained.
During the course of McMillan's arrest that spring, she sustained a violent beating that resulted in bruised ribs and cuts across her body. When she appeared on Democracy Now! Days after the incident, she sported bruises above her breast and on both arms and elbows. Most significant, however, was a seizure she suffered while laying helplessly in handcuffs while being detained after police say she elbowed an officer in the face.
"Cops were not in a hurry to help her and she was handcuffed. People in the crowd who have EMT licenses asked if they could go to her but police refused to let them through," eyewitness Julia Reinhart recalled to the Daily Mail shortly after the incident unfolded in 2012.
Others say McMillan writhed on the ground seizing for upwards of seven minutes before reportedly fainting. An ambulance arrived after around 15 minutes.
"[Police] were just standing," another witness told the Mail two years ago. "They dragged her from the ground on the street over to the curb and let her lay on the curb."
"They did not support her neck or spine the way you're supposed to do when someone is seizing to prevent them from choking on their tongue or their own blood. They did none of those things," the unnamed source said.
Beginning this week, a jury will be asked to examine the facts from that protest and determine if McMillan was the one who committed a felony by allegedly assaulting a police officer. She faces a maximum of seven years in prison if convicted of assault in the second degree, a class D felony. Prosecutors have indicated they will ask for the harshest sentence if a guilty verdict is returned.
"The main issue hereis the heavy-handed, over-policing by the NYPD during the Occupy Wall Street protests, which lead to crimes where none existed. It was a normal reaction for a woman to react, to be startled after having her right breast grabbed," her attorney, Martin R. Stolar, told Sparrow Media in a press release this week.
That groping, Stolar told the Guardian, started the whole ordeal. "The question for the jury is whether she intentionally assaulted him," he told the paper. "We're going to present evidence that indicates: Number one, that she had no idea it was a police officer behind her; and number two, that she reacted when someone grabbed her right breast."
Responding with an elbow, Stolar said, "does not constitute a crime."
"That constitutes a bit of over-policing and an accident as a result of that," he told the Guardian.
"I am innocent of any wrongdoing, and confident I will be vindicated," McMillan said shortly after the incident. Jury selection in her trial began Monday.
You can share this story on social media: