Judge slams Occupy Chicago arrests as 'unconstitutional,' throws out case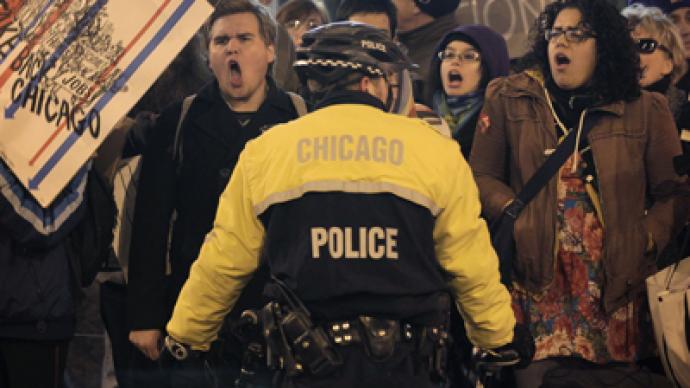 A Cook County judge dismissed charges against 92 Occupy protesters arrested in a Chicago park last October, ruling that the city's overnight park curfew violated the First Amendment and was being enforced selectively.
Associate Judge Thomas M. Donnelly noted that police had arrested hundreds in a crackdown on the protesters' encampment when the park closed at 11:00pm local time, but had not moved against the 500,000 people who came to see Barack Obama after he won the presidency in 2008."The city arrested no one at the Obama 2008 presidential election victory rally, even though the Obama rally was equally in violation of the curfew," Judge Donnelly wrote.The judge added that the selective enforcement of the curfew, combined with the Chicago Police Department's harassment of protesters in the days leading up to the arrests, supported "a finding that the city intended to discriminate against defendants based on their views."Judge Donnelly threw out the arrests, and slammed the city for denying the protesters their First Amendment rights. Citing the park's long history of political rallies dating back to Abraham Lincoln, Donnelly quoted early city leaders who resolved in 1835 that the land that became Grant Park "should be reserved for all time to come for a public square, accessible at all times to the people."The judge's opinion stood in stark contrast to that of Mayor Rahm Emanuel's administration, which in the months leading up to the NATO conference in Chicago had repeatedly pointed to the handling of the Occupy arrests as a new model for respecting protesters' rights. The city plans to appeal the judge's ruling. It is also unclear whether the ruling would affect the cases of the more than 200 arrested protesters who were earlier placed under court-mandated supervision to avoid having a conviction on their records.