Preying for absolution: Catholic priest says molester priests 'seduced' by minors
Published time: 31 Aug, 2012 03:39
Edited time: 31 Aug, 2012 07:39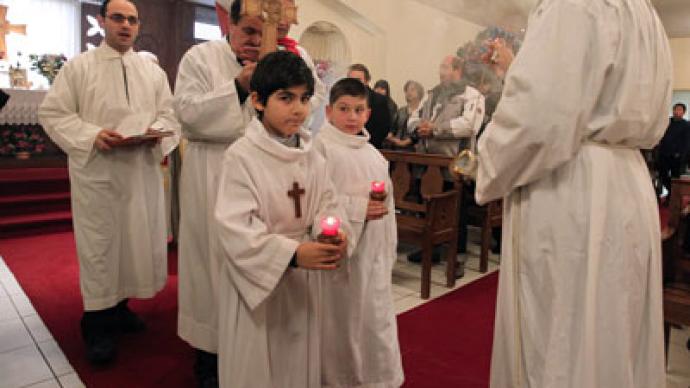 A prominent New York Catholic priest stated in an interview that minors often seduce older clerics, leading them to commit sex acts. The interview was subsequently removed and the paper that posted it called its publication an "editorial mistake."
In an interview with the National Catholic Register, the Reverend Benedict Groeschel was asked how to deal with priests who sexually abuse minors.

Groeschel suggested that the priest was not always fully responsible for his actions.

"Suppose you have a man having a nervous breakdown, and a youngster comes after him," he noted. "A lot of the cases, the youngster — 14, 16, 18 — is the seducer."

He suggested that first-time offenders should be relieved of a jail sentence "because their intention was not committing a crime."

Former Penn State coach Jerry Sandunsky, who is now likely to get life imprisonment after being found guilty of sexually abusing at least eight young boys, was also referred to in one of his answers as a "poor guy."

The interview, which was posted on the National Catholic Register's website, was subsequently removed and replaced with an apology from both the editor-in-chief and Groeschel himself.

"The editors of the National Catholic Register apologize for publishing without clarification or challenge Father Benedict Groeschel's comments that seem to suggest that the child is somehow responsible for abuse," editor-in-chief Jeanette R. De Melo wrote. "Given Father Benedict's stellar history over many years, we released his interview without our usual screening and oversight."

Groeschel stated that he did not intend to lay the blame on victims.

"A priest (or anyone else) who abuses a minor is always wrong and is always responsible," he said. "My mind and my way of expressing myself are not as clear as they used to be. I deeply regret any harm I have caused to anyone."

An extensive statement from Groeschel's community of the Franciscan Friars of Renewal also pointed to the Reverend's deteriorating health conditions as potential reasons for why he made such a controversial statement.

The statement took note of the fact that the priest had been in a coma for over a month after being struck by a car seven years ago.

"In recent months his health, memory and cognitive ability have been failing," the community's note stated. "He has been in and out of the hospital."

The Archdiocese of New York, for which Groeschel serves as the director of the Office for Spiritual Development, also blasted his comments, saying they were "simply wrong."

"The sexual abuse of a minor is a crime, and whoever commits that crime deserves to be prosecuted to the fullest extent of the law," a spokesperson for the Archdiocese said.

Apart from being a priest, Father Groeschel is also an author, activist and host of the weekly Sunday Night Prime TV show that appears on the Catholic Eternal World Television Network (EWTN).