Rape victim suing North Carolina town for hiring sexual predator to police force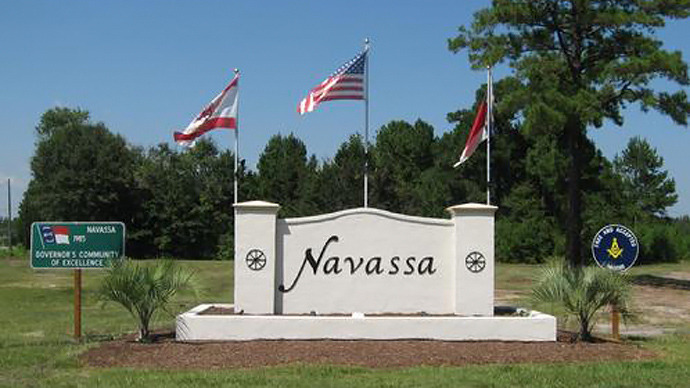 The family of a 13-year-old girl who was raped by a local police officer is suing the town they say hired the man without conducting an adequate background check. A proper investigation, they claim, would show that he raped another girl two years earlier.
Jaymin Lenwood Murphy was sentenced in 2010 to 41 years in prison for sexual offenses against both girls. He was previously charged with the first-degree rape of a child and sexual battery, among other counts, according to North Carolina's Wilmington Star.

The suit alleges that in 2005, Murphy "began engaging in sexual intercourse with his then-live-in-girlfriend's 11-year-old daughter," according to Courthouse News. Employed as a cab driver at the time, he raped the girl multiple times before moving out two years later in 2007. He was hired by the Navassa Police Department the following year.
"Within 16 months, Officer Murphy was raping another child, this time while on-duty, in the course and scope of his duties as a Navassa Police Officer," the suit continues.
The charges describe in shocking detail how Murphy took advantage of the child.

"In December of 2009, Officer Murphy was assigned by the Navassa Police Department to investigate accusations that the boyfriend of the [plaintiff] minor child's aunt had sent inappropriate pictures to the minor child. Officer Murphy visited the minor child, then 13 years old, at her grandmother's home in Navassa, in his squad car, in uniform, and demanded the family allow him to question the minor child in private, in a bedroom. Behind the bedroom's closed door, Officer Murphy told the minor child that 'investigators required photos of her to compare the images sent to her cell phone.' Officer Murphy then instructed the minor child to remove her clothing so he could take pictures of her genitals and breasts, and then, when the minor child complied under coercion, he did so."

Then, on the girl's fourteenth birthday, Murphy again visited the home and told the girl he needed to "conduct a pressure" test to see if she had been sexually active. After raping her he "threatened her mother and herself with jail," so she "was too terrified and traumatized by her rape to report it to anyone."

The complaint alleges that those responsible for hiring Murphy failed to conduct any psychological testing on a man who had already raped a child, thereby failing to achieve even the minimum entry requirements mandated by the state of North Carolina.

It continues, claiming, "That due to the failure of the Town of Navassa to adequately supervise Officer Jaymin Lenwood Murphy and his 'investigation' activities, he was able to have repeated, unfettered contact with the minor child and her family – a perfect environment for Officer Murphy to intimidate the grandmother and mother of the minor child and sexually abuse the minor child."

Court-appointed guardian James W. McGee filed the lawsuit against Mayor Eulis A. Willis, the Navassa Police Department and former Police Chief Copelen L. Taylor. The family is seeking compensatory and punitive damages for negligent hiring, supervision and retention. Only the second victim was named as a plaintiff.

Murphy was first arrested and charged in connection with the 2006 rape. It wasn't until the second victim saw that story broadcast on the local news and came forward to tell her story that Murphy was charged with additional counts of sexual abuse. Because Murphy pled guilty to the charges, neither victim had to testify in 2010 in court. He will be 67 years old before he has a chance for release.

You can share this story on social media: