US healthcare system wastes $750 bln every year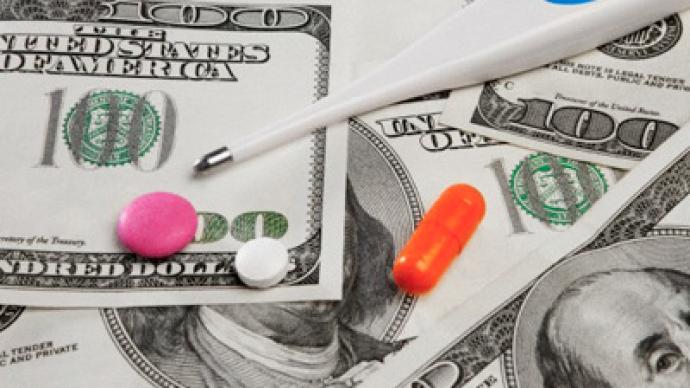 Americans struggling to pay expensive medical bills won't be happy to hear this: the US health care system has been found to waste nearly one third of every medical dollar spent, bringing misspent funds to $750 billion a year.
The Institute of Medicine reported Thursday that 30 cents of every medical dollar goes to unnecessary health care, deceitful paperwork, fraud and other waste. The $750 billion in annual waste is equal to ten years of Medicare cuts in Obama's health care law – more than the Pentagon budget and more than enough to care for every American who lacks health insurance.While health care has improved in the past 50 years due to an increase in biomedical knowledge, innovation and advanced surgeries, it still lags in other areas – especially costs."American health care is falling short on basic dimensions of quality, outcomes, costs and equity," the institute's report concluded.Most of the waste came from unnecessary services ($210 billion annually), excess administrative costs ($190 billion) and inefficient delivery of care ($130 billion). Repeating colonoscopies, early imaging for back pain, and brain scans for patients who just recently had them or didn't need them are examples of wasteful care.The report also made several analogies to describe the extent of the problem, which the Associated Press summarized. If health care were like banking, ATM transactions would take days. If it were like home building, carpenters, electricians and plumbers wouldn't communicate and work from different blueprints. If it were like shopping, prices would be unknown.Reducing health care costs is one of the central concerns of both Barack Obama and Mitt Romney, since the issue will continue to challenge the next president. The Institute of Medicine report proves that the government can afford cutting health care without affecting individuals – as long as those cuts come from the areas that waste spending.Controlling health care costs is crucial in reducing the deficit. Members of the Institute of Medicine panel launched a campaign called "Choosing Wisely," which challenges the idea that more care is better."Rationing to me is when we are denying medical care that is helpful to patients, on the basis of costs," cardiologist Dr. Rita Redberg told AP. "We have a lot of medical care that is not helpful to patients, and some of it is harmful. The problem is when you talk about getting rid of any type of health care, someone yells, 'Rationing.'"The Insistute of Medicine recommends that health care should be better coordinated, doctors should follow up with patients, care should be continued with the same doctor the patient started with, and there should be greater use of digital records to avoid double-examining patients."It's a huge hill to climb, and we're not going to get out of this overnight," said one of the group's panelists, Dr. Mark Smith. "The good news is that the very common notion that quality will suffer if less money is spent is simply not true. That should reassure people that the conversation about controlling costs is not necessarily about reducing quality."The US has spent more federal money on health care than any other nation in 2008. But while Americans still struggle to afford it, news of the wasteful spending puts the finances into greater perspective.