Terror plot to attack New York-Toronto railroad thwarted in Canada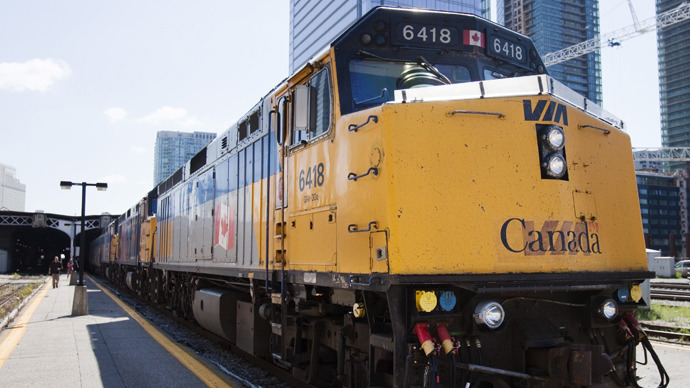 Authorities have reportedly prevented what they say was an al-Qaeda-supported terrorist attack that aimed to disrupt a major North American rail transit route.
Canadian law enforcement confirmed Monday afternoon that authorities thwarted an alleged terror plot in Canada that targeted a Via Rail passenger train that operates between Toronto, Ontario and New York City in the United States.
During Monday's press conference, the Royal Canadian Mounted Police (RCMP) confirmed that they apprehended and charged two men earlier in the day that they believe unsuccessfully hatched what is being called a homegrown terror plot. The suspects now in custody have been named as Chiheb Esseghaier, 30, and Raed Jaser, residents of Montreal, Quebec and Toronto, Ontario, respectively.
"We are alleging that these two individuals took steps and conducted activities to initiate a terrorist attack," Jennifer Strachan, criminal operations officer for RCMP Ontario, said during Monday's presser.
The Canadian Broadcasting Corporation adds that the suspects were under investigation for over a year before brought into custody, and assistance was provided by entities on both sides of the border including the United States' FBI and Department of Homeland Security, although the plot itself involved attacking a train on Canadian soil.
Police do not believe the plot is related to the terrorist attack in Boston, Massachusetts last week that left three people dead, but do allege that the Canadian operation was to some extent supported by an Al-Qaeda affiliate in Iran. Iranian authorities, however, have vowed Tehran has no links to the group.
"This is the most hilarious thing I've heard in my 64 years," Iranian Foreign Minister Ali Akbar Salehi said, as quoted by ISNA news agency. He added that any suggestion that Al-Qaeda is linked to Iran is "truly ridiculous."
The suspects, say investigators, were spotted routinely monitoring train activity in the Toronto area. An arrest had originally been planned for three weeks earlier, but their apprehension was put on hold for reasons not yet known.
Details on the suspects are scant as preliminary reports come in, but Robert Fife, chief of CTV's Ottawa news bureau, says, "it does not appear to be a case of radicalization of youth."
You can share this story on social media: