'Canada will remain zombie-free' – Canadian FM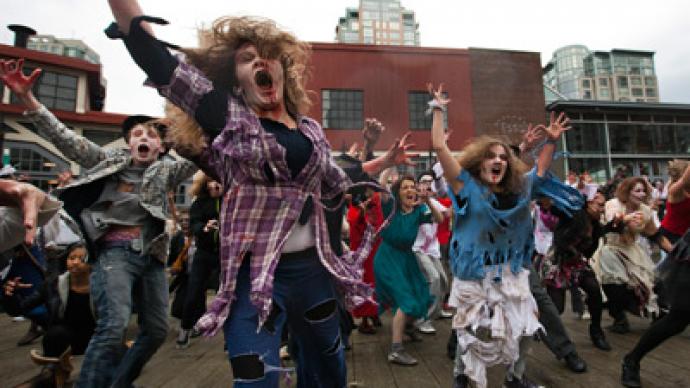 Canadian Foreign Affairs Minister John Baird was faced with a question in Parliament on whether Canada is ready to fend off a US zombie invasion, real or not. He glibly replied that Canada would never become a "safe haven for zombies."
­The bizarre exchange took place in Parliament after NDP MP Pat Martin asked Foreign Minister Baird whether the Canadian government is working with the US "to develop an international zombie strategy so that a zombie invasion does not turn into a zombie apocalypse?"
"I don't need to tell you Mr. Speaker that zombies don't recognize borders and that a zombie invasion in the United States can easily turn into a continent-wide pandemic if it is not contained," Martin said.
Baird cheekily responded that he was "dead-icated to ensuring that this never happens," adding that "under the leadership of this Prime Minister, Canada will never become a safe haven for zombies ever."
But Martin's question was not as random as it first seemed – it referenced a recent news report that the public security department of the francophone Canadian province of Quebec used a hypothetical zombie scenario for a disaster-planning exercise.  
"When we're talking about zombies, we're talking about a training concept," Denis Landry, director of disaster recovery for Quebec's civil security department told the Canadian Press. The idea was that an invasion of the living dead would simulate a real-life catastrophic event, preparing participants for anything.
Zombie obsession
No matter how odd or silly, hypothetical zombie apocalypse scenarios have become popular in emergency preparedness training in both Canada and the US. The US Centers for Disease Control (CDC) recently put up a zombie graphic novel on their website titled 'Preparedness 101: Zombie Pandemic.'
"If you are generally well equipped to deal with a zombie apocalypse you will be prepared for a hurricane, pandemic, earthquake, or terrorist attack," program director Dr. Ali Khan told the Daily Brew.
But in the summer of 2012, the CDC released a statement reminding readers that "zombies are not real," following online rumors and panic that a zombie apocalypse was brewing following a string of disturbing cannibalism incidents in the US.
"CDC does not know of a virus or condition that would reanimate the dead (or one that would present zombie-like symptoms)," CDC spokesperson David Daigle wrote in an email to the Huffington Post.
Still, almost every US state has adopted zombie-modeled exercises because it forces people to think outside the box, Landry argued: "It's essentially designed to prepare authorities for any kind of disaster, right up to pandemics."
Even the US Department of Homeland Security held a zombie-themed exercise last September to encourage better readiness for real disasters.