Riots, arrests in California as Zimmerman protests turn violent (PHOTOS)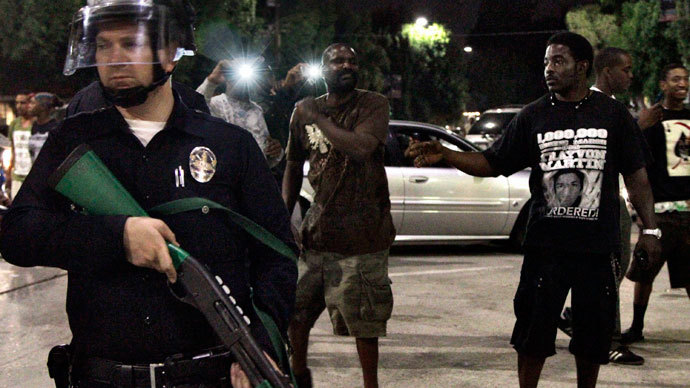 Police in Los Angeles and Oakland clashed with pockets of violent protesters intent on wreaking havoc following the verdict in a high-profile court case that saw the killer of a black youth declared 'not guilty.'
Follow RT's live updates.

A number of protesters were taken into police custody Monday night after the LAPD declared an unlawful assembly shortly before 10 pm on Monday night in the Crenshaw district.

The scene along Crenshaw Boulevard and adjacent streets was chaotic as rioters set fires, assaulted bystanders, and vandalized cars and businesses, authorities said.

Police estimated that up to 150 people were engaged in acts of civil disobedience in the Crenshaw area.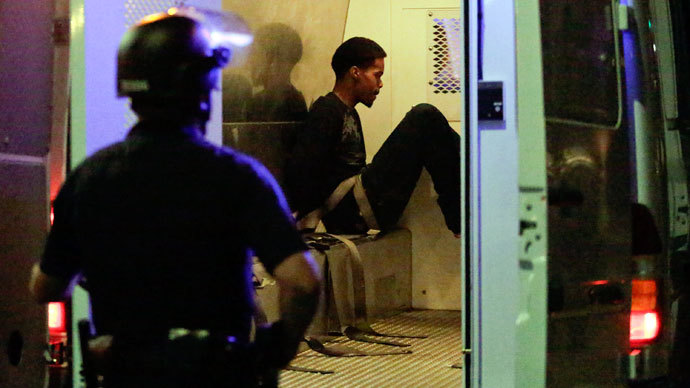 LAPD reported that it arrested a total of 13 individuals and Oakland police detained nine. 
Earlier Monday, a group of protesters stormed a Wal-Mart on Crenshaw Boulevard as guards hurried to close the security gates. A short time later, LAPD officers wearing helmets and carrying batons swarmed the store to disperse the looters, The Los Angeles Times reported.
Some of the protesters hurled chunks of concrete at officers on Vernon Avenue, the LAPD said. No injuries were reported.

The LAPD declared a tactical alert at approximately 9 p.m. local time, which requires that off-duty officers remain on duty when their shifts end to assist with high-priority calls.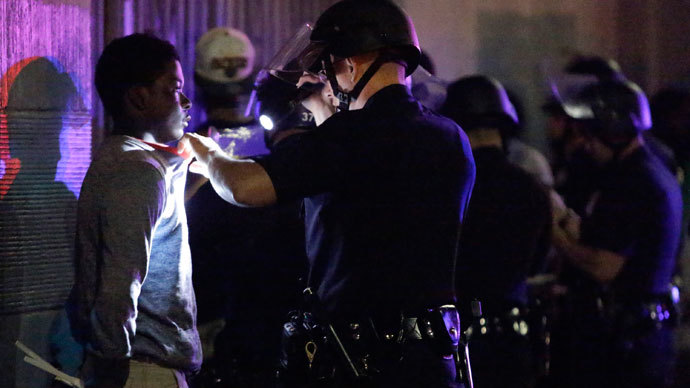 The eruption of violence created a "nightmare" for local commuters as automobiles were trapped around Leimert Park and bus service was cancelled on Crenshaw and Martin Luther King Jr. boulevards, Metro reported. 
The LAPD has warned it has 300+ officers have been deployed and it will take a strict approach to people who come out to the Crenshaw area tomorrow.  

Meanwhile, Oakland had also experienced its share of disturbances as police turned on protesters with tear gas and concussive grenades in response to youths smashing windows and throwing rocks at members of the media. 
There had also been reports that a masked protester attacked a waiter with a hammer-like object in Oakland.   
The violence comes in the wake of a murder case that polarized the nation along racial lines in the death of Trayvon Martin. Defense lawyers argued that Martin, 17, attacked George Zimmerman, who responded by shooting and killing the teen in apparent self-defense. 

The prosecution attempted to portray the actions of Zimmerman, 29, who is Hispanic, as racially motivated as he "stalked" and targeted Martin because he was black, they said.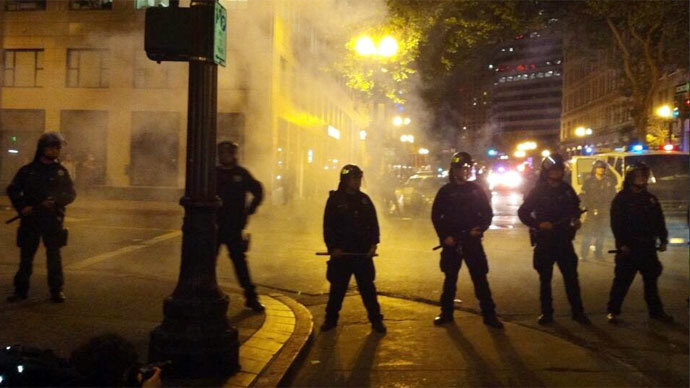 Peaceful protests held in other US cities 
Despite the sporadic incidences of violence in Los Angeles and Oakland, peaceful protests went ahead in other cities across the US.
In San Francisco, streets were closed off as people marched against Zimmerman's acquittal.
#JusticeForTrayvon rally marching through NYC. Massive NYPD presence. pic.twitter.com/hnOXY8NOqK

— marina portnaya (@portnayanyc) July 15, 2013
In New York hundreds marched from Union Square to Times Square. RT's Marina Portnaya estimated that police outnumbered demonstrators 2:1 and, while no arrests were made, the marchers made their presence known.
Marchers carried signs and chanted "Justice for Trayvon Martin!" and "No justice, no peace!"
Huge #NYPD turnout in Union Sq where 100's have gathered for #JusticeForTrayvon rally. pic.twitter.com/uH5QTRjhCt

— marina portnaya (@portnayanyc) July 15, 2013
Even though a new trial for George Zimmerman is unlikely, the protests have already succeeded in changing the conversation for the better, Professor Charles Rose, who teaches Excellence in Trial Advocacy at Stetson University in Florida, told RT.
"You could look at the glass as half-empty or half-full. I prefer to think that what it gets us in the United States to do is what we, as a nation of immigrants, always need to do, which is to talk about how we come together," he said. "That issue of race is always present in the United States and it gives us an opportunity, once the emotion has run out, to give us a way to talk about this in a way that can be positive for the country in the long term."
"My skin color is not a crime" -NYC Demonstrators at #JusticeForTrayvon rally in Union Square pic.twitter.com/iJZQurWOGv

— marina portnaya (@portnayanyc) July 15, 2013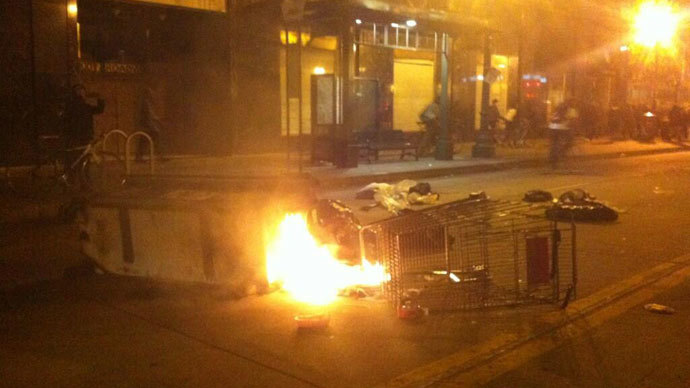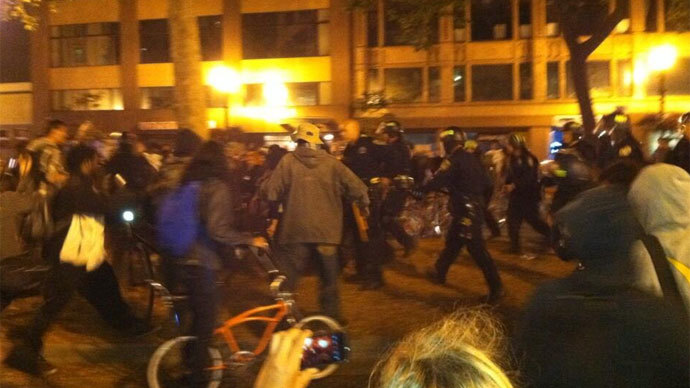 You can share this story on social media: