Californian Trayvon: Cops gun down unarmed black teen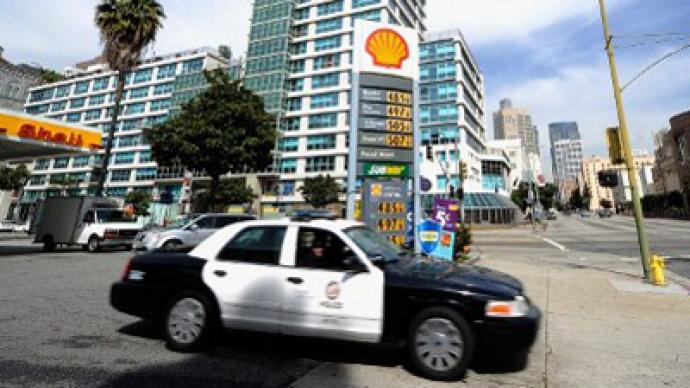 A second shooting of an unarmed African American youth by US police is fueling suspicion of institutionalized prejudice in the force and threatening social unrest across American suburbs.
A 9-11 call claiming an armed robbery had taken place sent Pasadena police in chase of armed suspects. They followed two young men without deploying their police sirens. Two officers eventually opened fire on the youths, killing Kendrec McDade, a 19-year year-old Citrus College student, who cops claim had moved his hand towards his waistband. McDade, a stand-out football player for the Azusa High School Aztecs, was unarmed yet died in hospital of multiple police gunshot wounds.Local man Oscar Carillo, who placed the 9-11 call, admitted under questioning he had lied to police that the suspects were armed to generate a faster response, after McDade's 17-yr old companion had broken into his car. The 17-yr-old has a criminal record of burglary, grand theft and failing to register as a gang member. Carillo is now charged with involuntary manslaughter by the trigger happy police.
'Black men become targets of violence'
The Trayvon Martin affair , following the killing of an unarmed 17 yr old African American by a neighborhood watch coordinator, has put the conduct of US security forces and laws supporting them under intense scrutiny.Civil activists and McDade's family and supporters have been calling for a thorough investigation and justice for the teen. Some have drawn parallels with the Trayvon Martin case."They were young black men who are, when the situation comes up, targets of violence," Earl Ofari Hutchinson, president of the Los Angeles policeroundtable, was quoted by The Daily Beast as saying.Hutchinson also noted that the responsibility for McDade's death should lie on Carillo, as he overstated the possible danger the two teens posed."I think Carrillo owns a great deal of culpability," Hutchinson said. "If he hadn't lied, Kendrec McDade would most likely be alive. They should throw the book at him."Others also blame the police officers who did not give warning shots or flash lights at McDade."There's just no way I can fathom the police not telling him 'Stop, halt, you're under arrest'" said Michael A. Gordon, leader of the Pasadena Community Coalition. Neighborhood activist William Greer said the community was ready to go up in smoke because of the actions of the police officers. "The police department's job is to serve and protect," he noted. "They just can't go around shooting people. It is the wild wild west here in northwest Pasadena."
Top officials and activists: Don't jump to conclusions
Top Pasadena officials and some civil rights groups activists have called on the public not to jump to conclusions, and to the let the investigation take its course. "I ask everyone to be patient as we go out and get the facts," said Pasadena council member Victor Gordo. He was seconded by Mayor Bill Bogaard, who also asked the public not to jump to conclusions. "Insisting on justice is different than doing a rush to judgment," said Los Angeles civil rights activist Connie Rice. "You don't want a rush to judgment. You want the facts collected first. Let justice speak." Although the cases of Trayvon Martin and Kendrec McDade appear to be similar on the surface, there are significant differences between the two. What does make them similar is the fact that both victims were black teenagers suspected of being involved in criminal activity.Pasadena police lieutenant Phlunte Riddle notes that in Martin's case, the teen was shot by a neighborhood watch captain on his way back home, while in McDade's case he was killed by the police after allegedly committing a crime with his accomplice. "This wasn't any type of profile, looking for someone of color," Riddle said. "This was a response to an armed robbery that had just occurred with a full description. That is significantly different than the Florida case. The officers are extremely upset. They believed their lives were in danger."
You can share this story on social media: