California teachers arrested during education protest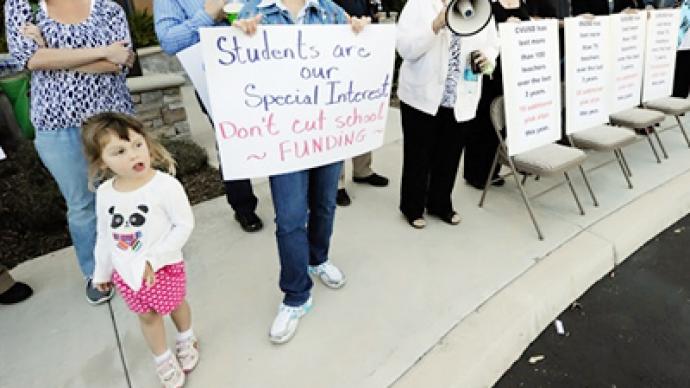 California police arrested at least 65 protesters calling for tax hikes to pay for education programs as they refused to leave the capitol rotunda after it had closed.
The arrests follow a week-long event dubbed a "State of Emergency" for California's education system run by the California Teacher Association. The group hopes the protests pressure the state legislature into renewing and raising taxes to prevent cuts to school budgets and state education programs. The arrests were made after protesters refused to follow the orders of police officers which insisted they leave the capital building as it was closing. "We're not just here to lobby. We're here to raise some hell," Betty Olson-Jones, president of the Oakland Education Association told The Raw Story."This whole system is being destroyed, needed services are being killed, the richer are getting richer, we have to do something to reverse that," another protester told FOX40.Protesters chanted "Tax, tax, tax the rich, we can solve the deficit," insisting cuts do not need to be made if taxes are raised on California's richer income earners. California Democratic Governor Jerry Brown and Democratic state lawmakers want to raise taxes by extending taxes set to expire over the summer, but to do so they need votes from Republicans in the state legislative bodies. Republicans are refusing to cooperate."It's an opportunity for us to live within our means and do the right thing, and still protect schools and law enforcement and the things that I believe are important to taxpayers and what taxpayers believe they're paying taxes for in the first place," said Republican Assemblywoman Connie Conway, arguing that new or extended taxes are not needed.
You can share this story on social media: