California man arrested for trying to return pipe bomb at gun buyback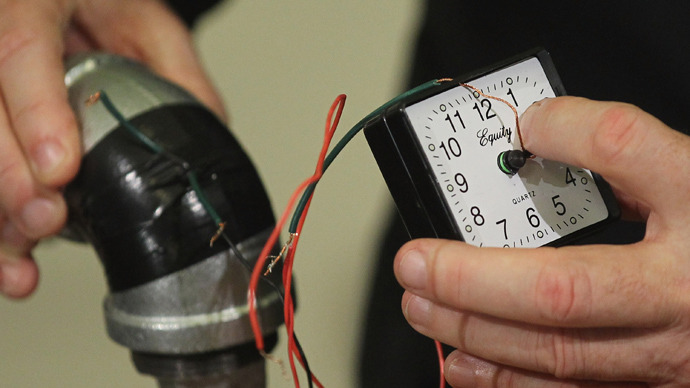 During a gun buyback event in Los Angeles, one man surrendered a homemade pipe bomb, explaining that he has no more desire to use it. California police then immediately proceeded to arrest the man for owning it in the first place.
"This is not a pipe bomb buyback. This is a gun buyback," Los Angeles Police Chief Charlie Beck told CBS Los Angeles. "Pipe bombs are illegal to possess, illegal to manufacture."
The police chief explained that people can turn in their firearms with no questions asked, but that this does not apply to bombs. This past weekend's sixth LA gun buyback event yielded about 1,200 surrendered firearms, most of which were handguns, rifles and shotguns. Among the surrounded firearms were also 49 assault-style weapons. California residents who turned in their guns were given gift cards in exchange for their weapons. The city spent $250,000 for the event held this past weekend.
"Some of the assault weapons that were collected, these are weapons of war," Beck said, adding that "a couple of AK-47s" and an antique "Tommy Gun"-style weapon were turned in.
Los Angeles Mayor Antonia Villaraigosa said that "each gun that gets off the street represents one less opportunity for tragedy, one less weapon that can lead to the loss of life."
But the man who turned in his pipe bomb would have been better off discarding it on his own. In many countries – including the US – possession of a homemade pipe bomb is a crime, regardless of a person's intended use for it.
And although the man who turned it in had no intent to use it that day, he admitted that he once planned to detonate the Hollywood sign.
"[The man] told the officers in the line that he had spoken to God that day, and God no longer wanted him to use that bomb to blow up the Hollywood sign, now he wanted him to turn it in," Beck said.
Upon receiving the bomb, police safely detonated the device and arrested the man who dropped it off.
California's penal code prohibits the possession of "any destructive device" other than "fixed ammunition", and punishes violators with incarceration and/or substantial fines. Violators who are in possession of such a device can be convicted of a misdemeanor, face one year in county jail and a maximum fine of $10,000. Violators convicted of a felony face the same fine and up to three years in California State Prison.
Police have not yet revealed any details about the charges this man faces. But if he receives a fine or jail time, his good intentions in surrendering the bomb will have been more costly than discarding it on his own.
You can share this story on social media: