California for the first time fines oil company for dumping fracking discharge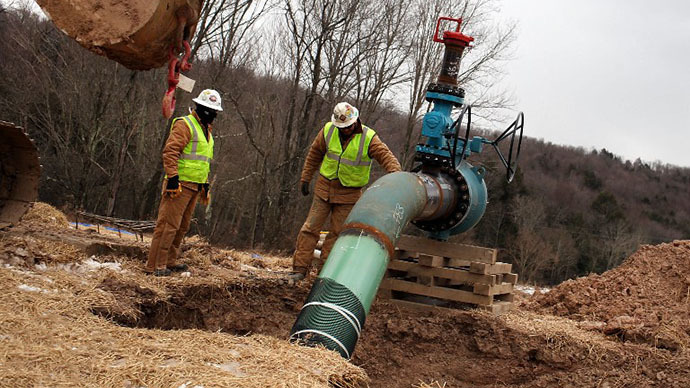 A southern California oil company has been fined $60,000 after being caught on camera illegally dumping a toxic discharge produced by hydraulic fracturing, or fracking.
The company, Vintage Productions of Kern County, agreed to pay the fee last month on November 15 after they were caught on film by an area farmer dumping a black liquid discharge into an unlined, open pit on the well site in Shafter, CA.
"My intent was to take a movie if I saw anything interesting," the farmer, Tom Frantz, told local network KPIX 5.
According to the CBS affiliate, Frantz posted the video on YouTube and eventually handed it over to the Regional Water Quality Control Board that monitors activity in California's Central Valley.
"Without the video I don't know that we would have ever have known that that activity took place," RWQCB executive officer Clay Rodgers told the network.
Rodgers and company quickly opened up an investigation which eventually determined that Vintage had illegally dumped the toxic fracking discharge for nearly two weeks.
"The prosecution team's investigation determined that Vintage periodically discharged saline water, formation fluids and hydraulic fracturing fluid to an unlined sump for 12 days," the RWQCB announced with a news release. "The prosecution team concluded the discharge posed a threat to groundwater quality and that Vintage violated the Water Code for the unpermitted discharge of wastewater to land."
The incident marks the first time ever that a California company has been reprimanded for illegal fracking conduct, but not the first time in the United States. In July, the US Department of Justice and Environmental Protection Agency fined Exxon parent company XTO Energy $100,000 for letting fracking wastewater contaminate a tributary of Pennsylvania's Susquehanna River.
With regards to the incident in California, fellow RWQCB executive Pamela Creedon told the San Diego Free Press that "The discharge of high-salinity water to unlined sumps in areas with good quality groundwater, such as at the Vintage Production site near Shafter, is not consistent with the Tulare Lake Basin Plan.
"We are concerned that similar discharges may have occurred elsewhere throughout the Central Valley," added Creedon. "Past and future drilling operations will be evaluated to ensure that operators are in compliance with Basin Plan policy. Additionally, we are presently revising General Waiver Resolution R5-2008-0192 to more specifically address oil field drilling fluid discharges to unlined sumps located in the Central Valley."
The $60,000 fine against Vintage will fall on the shoulders of Occidental — one of the largest names in the worldwide oil industry who happened to rake in around $1.58 billion in profits last year, according to the Los Angeles Times. If the biggest business lobbying groups in the US has their say, however, future frackers won't be subject to such scrutiny: according to Think Progress, US Chamber of Commerce CEI Thomas Donohue said during a business meeting with executives this week that federal regulations on fracking expected to soon be codified would "short-circuit America's absolute explosion in energy opportunity that is creating millions of jobs."
Meanwhile, many countries including France, Bulgaria and Romania have banned fracking altogether, and localized efforts to thwart hydraulic fracturing have been successful domestically in select locales across New York and New Mexico, as well as all of Pennsylvania. A petition in California was launched this week to help implement a similar ban there.
You can share this story on social media: