California bill aims to regulate 3-D 'ghost guns'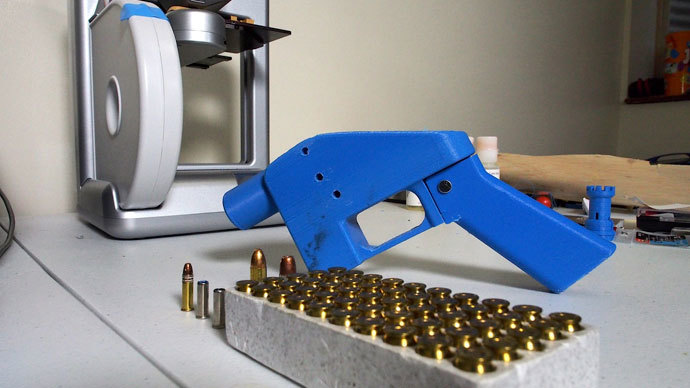 A state Senator proposed legislation that seeks to thwart the proliferation of undetectable plastic firearms that can be produced using 3-D printers.
The bill, submitted by Sen. Kevin de Leon, would require that anybody who wants to assemble a homemade firearm undergo background checks and register their weapons with state officials.

Today, the legislation seems important as ever, given the technological changes in the gun industry. Three-dimensional printing, for example, is a new technology that permits people to download to a computer the blueprint for a particular firearm, which can then be produced on a 3D printer without any background checks.

The ease of manufacturing a gun at home out of material that can evade metal detectors is a cause for concern among security officials and lawmakers.

De Leon's bill is an effort to address the danger from what he terms "ghost guns" — firearms crafted from plastic that can get past metal detectors. The measure also seeks to prevent unregistered firearms falling in the hands of individuals who are prohibited from owning guns under state law.

"Currently, no one knows they exist until after a crime has been committed," de Leon told reporters on Monday.

The legislation also would apply to anyone who purchases parts that can be assembled into a gun.

The US House of Representatives voted in December to extend for another 10 years the Undetectable Firearms Act, a current law that prohibits weapons made entirely of plastic because they can evade metal detectors. De Leon's bill, however, proposes tougher requirements on homemade weapons.

Thus, the government plastic guns are required to include a metal piece. However, since the metal can be removed, the gun could potentially make it past metal detectors at various public places.

De Leon's proposed legislation would require that homemade firearms contain permanent metal pieces that would set off alarms when passing through metal detectors.

Bill SB808 would allow California residents to manufacture homemade firearms, but only after they submit an application to the Justice Department for a background check. The applicant, if cleared by the check, would then receive a serial number that would have to be permanently attached to the weapon within 24 hours of its production.

National Rifle Association spokeswoman Catherine Mortensen said the organization, which ranks as the most powerful lobbying group in the US, is against any expansion of the law at either the federal or state level.

Brian Jenkins, former adviser to the National Commission on Terrorism, expressed doubts that new 3D technology will lead to a surge of undetectable weapons, due to the fact that it is much cheaper to buy a standard firearm through a supplier. At the same time, airport body scanners can detect a gun even if it is constructed from plastic.

"As we come up with new types of technology, it creates new vulnerabilities," AP reported Jenkins, who has written on terrorism, as saying. "What you have then is an ongoing dynamic between bad guys and good guys."
You can share this story on social media: