Nuclear site whistleblower fired after complaining about safety conditions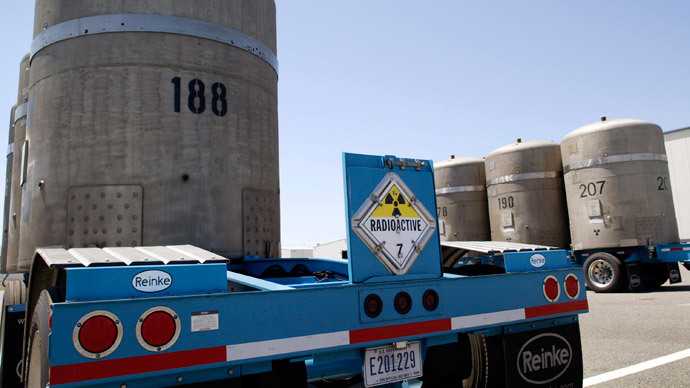 The termination of a safety manager from a Washington state nuclear facility this week marks the second time in four months that a whistleblower was fired from there after speaking out.
Donna Busche, 50, was fired Tuesday morning by URS Corp, a federal subcontractor hired by the United States government to build a $12.3 billion plant that will make glass from the waste being held at the old Department of Energy-owned Hanford Nuclear Reservation in the southeastern part of the state. Construction of the plant is currently on hold because of safety concerns, and the facility has been previously referred to as the most-polluted nuclear weapons production site in the US.
Busche's termination this week comes nearly five years after she first started working at the plant. Most recently she was employed there as a manager of environmental and nuclear safety at the facility's construction site, and directed a staff of 140 engineers, scientists and technicians, according to the Los Angeles Times, often raising concerns about safety issues at Hanford during her half-decade tenure. Now she says her willingness to speak honestly about her work there is what got her into trouble.
URS says they had cause to terminate Busche, and told her it was due to "unprofessional conduct." She is already speaking out about the matter, though, and says she lost her job because her employer wanted to retaliate in response to comments she made publically about the plant in the past.
Busche has been vocal for years about conditions at Hanford. In October 2010 she testified before the Defense Nuclear Facilities Safety Board, an independent federal agency, and made remarks about Hanford contrary to those offered by her superiors at the Department of Energy. She later said she was "openly admonished by former DOE Assistant Secretary Inés Triay for her testimony," and the following year filed a complaint of discrimination with the Department of Labor alleging her employer retaliated against her for reporting problems at Hanford. The Labor Department is currently considering that complaint, while the Department of Energy has been tasked with investigating the safety claims made by Busche before her termination.
Walter Tamosaitis, a colleague of Busche's who also raised safety concerns about the plant, was fired last October from URS after 44 years of employment. On Tuesday, Busche told the Associated Press that she has expected for a month now that she would be the next to go.
"We raised technical issues and have received harassment, retaliation. The fact that he was terminated, it sent a resounding message to me, right? And heightened my sense of awareness that I was probably next," she told CBS News last year after her co-worker was removed from the job.
"Right now I will take a deep breath, file for unemployment and start another lawsuit for wrongful termination," she added this week to the AP.
According to URS, however, they were in the right to fire Busche this week. "We do not agree with her assertions that she suffered retaliation or was otherwise treated unfairly," the company said in a statement to the AP, adding Busche was terminated for reasons unrelated to the safety concerns. "Ms. Busche's allegations will not withstand scrutiny," the company said.
"URS gave me no reason for my termination other than 'unprofessional conduct.' They gave me no documentation. They gave me no explanation," Busche told CBS News.
Now she says the contractor's actions are causing a chilling effect among other URS workers who are worried about speaking up.
"One of my previous subordinates says that they're actually afraid of getting fired for doing their job," Busche told CBS.
When CBS covered a waste leak at Hanford last year, they reported that the federal government spends around $2 billion annually on cleaning up the nuclear site — or about one-third of what the country spends on its entire nuclear cleanup operations.
You can share this story on social media: