Chicago cops back in the spotlight with new brutality accusations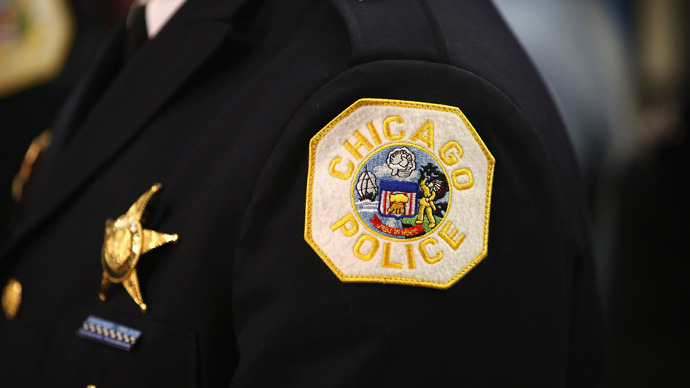 Chicago Police are accused of using an unwarranted amount of force in a drug raid on the city's South Side just weeks after being sued by a family claiming their home was wrongfully raided. Community members now say a dog was killed unnecessarily.
Full-time student Stephanie Smith, 31, woke to a loud boom early one morning last week and was greeted at her front door by a group of officers from the Lake County Metropolitan Enforcement Group, also known as MEG. Standing behind Smith, she told the Lake County News-Sun, was her dog, Lokey, a 50-pound female pitbull mix that was barking at the police while wagging her tail and sniffing their boots.
"Then the tallest [officer] just stepped through the crowd, aimed his gun down and shot her twice in the head," she said. Smith added that they were carrying "the biggest green guns I've ever seen."
After watching Lokey – who was named after the Norse god of mischief Loki – be killed in front of her eyes, Smith immediately thought of her child.
"Let me get my baby! Let me get my baby!" she screamed before being walked into her own bedroom by the same officer who shot the dog.
"He told me, 'Now put your hands up.' I kept screaming," she said. "The next thing I knew, I was in the Gurnee Police Department."

The show of force was planned not for Stephanie Smith but for her brother, Jesse, 30, who was arrested after MEG officers entered their home with a warrant to search for cocaine, firearms, and "financial records related to the use and sale of controlled substances."
Stephanie Smith was briefly detained but has spent the week since the raid, which came during the early morning hours of March 20, cleaning her apartment and trying to replace the two doors police destroyed with battering rams.
Earlier in March, court papers were filed against an equally aggressive unit that supposedly barged into a purported drug den only to find six children practicing church hymns. The children, aged 11 months to 13 years old at the time, were screamed at and commanded to get on the ground.
"This is what happens when your grandma sells crack," said one officer, according to the lawsuit.
But their only crime was living on the first floor apartment at 10640 S. Prairie Ave. on the South Side of Chicago. The search warrant was for the second floor apartment, where police would have found suspected drug dealer Sedgwick M. Reavers. Instead, upstairs, this family found their dog dead – presumably killed by police – after being dragged with a dog pole by one of the officers. 

In August 2011 a federal grand jury awarded an 18-year-old man $330,000 after police officers wrongfully shot his dog during a home raid that found no evidence of illegal activity.

You can share this story on social media: