Anonymous hacktivist's mom faces $100k fine for hiding computer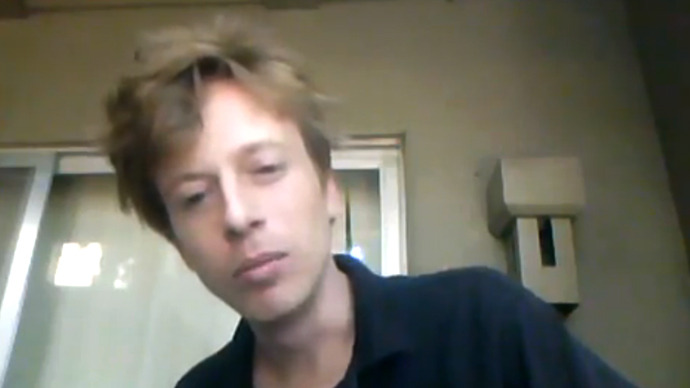 The mother of alleged Anonymous hacktivist Barrett Brown has pleaded guilty to helping her son hide two laptop computers from federal investigators—a crime that could cost her prison time and a hefty fine.
Karen McCutchin, the mom of the 31-year-old imprisoned activist, pleaded guilty last week to a charge of obstructing the execution of a search warrant. Now McCutchin waits for sentencing, where she could be asked to pay $100,000 and spend a year in prison.
McCutchin's trouble with the law began the same day that matters started worsening for her son, who now stands to face a maximum sentencing for his own crimes extending up to 100 years in prison.
On March 6, 2012, officers with the Federal Bureau of Investigation raided Brown's Dallas, Texas apartment in an attempt to execute a search warrant for computers that could contain information involving two hacktivist groups — namely Anonymous and their offshoot, LulzSec — as well as records relating to his personal Twitter account and any online chats he may have participated in. Also listed on the warrant were records relating to Brown's personal website for an online think-tank he founded called Project PM and the companies that both that group and Anonymous investigated, including government contractors InfraGard, Endgame Systems and HB Gary.
When authorities arrived at Brown's apartment, though, he wasn't around. He later said that he had been tipped off about the investigation and took his computers to his mother's house nearby where he was met shortly later by investigators.
"They told me that they'd executed a search warrant at my apartment and that the door had been broken in the process, and then asked me if I had any laptops with me here at my mom's place that I wanted to give them. I responded in the negative, and they left,"Brown said in a dispatch published the next day. "At any rate, the Feds came back a couple of hours later with a search warrant for my mom's place - they fully intended to take a certain laptop, and did." Between the two visits, Brown and McCutchin allegedly hid the computers.
Brown would later write from behind bars, "I cannot forget how my mom cried on March 6th after the FBI had left with my equipment and hers, and how she whispered through tears that she wanted to be able to protect me from prison but couldn't."
It was six months before Brown was actually brought into custody later that year in September, but it took three weeks before prosecutors pinned any charges on him. In the first of three indictments filed against Brown, he was charged in October with making threats against government officials. Weeks later in December, he was charged with sharing a link that contained pilfered data that members of Anonymous and LulzSec hacked from private intelligence firm Stratfor. Then in January 2013, Brown was indicted for obstruction.
Although McCutchin was not identified by name in January's indictment, Brown frequently engaged in public discussion before being imprisoned about how the authorities were after his mom. Then nearly one year after the March 2012 raid, a federal grand jury said there was enough evidence to formally accuse Brown and "K.M" of concealing two laptops at McCutchin's home.
The plea deal, first reported by the Dallas Observer, was signed on March 22 and says that McCutchin agrees to waive her rights to a trial by jury and will admit guilt to the one count of obstruction the execution of a search warrant.
As the Observer's Eric Nicholson acknowledges, Brown quite vocally warned days before being arrested that the authorities would go after his mom for obstructing justice.
"The charges against McCutchin are hardly unexpected. It was threat of prosecution against his mother that seemed to really set Brown off, and her role in obstructing the FBI (she was referred to as "KM") was alluded to in Brown's indictment for concealing evidence," Nicholson writes.
Barrett Brown is expected to stand trial in September, at which point he will have spent an entire year behind bars without a conviction. In an interview Brown gave Vice Magazine from behind bars that was published on Tuesday, Brown said that he wasn't worried about his case.
"They don't have their shit together in terms of going through what they spied on me regarding," Brown said, "and I obviously know what's there in that evidence."
After the raid last year that ended with the loss of his computers, Brown wrote that he hoped the incident would motivate others to investigate the same firms that the FBI searched his laptops for information on.
"I am happy to post this list as it contains the names of two firms - HBGary and Endgame Systems - which I will now have particular opportunity to discuss, in a more public setting, as this matter proceeds," he wrote.
You can share this story on social media: