Hundreds of teens go on 'trashing' spree in NYC mall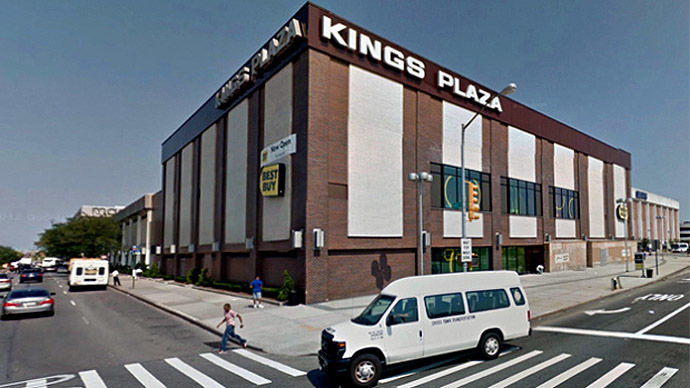 Hundreds of aggressive teenagers stormed a New York mall, trashing stores and terrifying customers and personnel, local media report. Some teens allegedly took part in a game of "knockout." The mall briefly shut down in response to the violence.
More than 400 "fast and furious" teens reportedly stole cheap items, smashed jars of candy and even beat up security guards at Kings Plaza Shopping Center in Brooklyn between 5 pm and 7 pm on Thursday. They used social media to set up the attack, designed to put the mall "on tilt".
"I've been here seven years and I have never seen anything like this before — I'm so scared. I know they will come back," a clerk at Candy Plaza 2, Abu Taleb, told the New York Post.
"I was begging them to stop. There were a lot of kids, hundreds of kids… [Security] would chase them out one door and they would come back in another door," the 31-year-old man added.
One female witness said she saw "a tall white guy wearing a ski mask and a skull cap", who had his hand under his coat "like he was holding a gun..."
A number of merchants rushed to roll down metal gates to protect themselves from the raging teenage horde, while security guards tried to stop the youngsters.
"A lot of kids running, and I'm hearing screaming, so the security guard said there's a little security issue, you have to bring down the gates to keep the consumers, our customers safe," Greg Casiano told CBS 2.
The mall was closed for about an hour, during which time no arrests were made. According to police, the teenagers were mostly 15 and 16 years old. Video footage showed two security guards carrying a teenage boy out of the mall.
As a result of the flash mob, the mall's management introduced a new policy forbidding entry to anyone under the age of 18 who is not accompanied by an adult, CBS 1010 WINS reported.
The policy, which will be in place indefinitely, has provoked mixed reactions from both teens and adults, calling it "unfair" and "ridiculous".
Wild "knockout" attacks – when people randomly approach strangers on the street to punch them – have been recently spreading like wildfire across the US, with attacks reported in Washington DC, Pennsylvania, and California.
Last month New York State lawmakers turned to federal government for help. Assemblyman, Jim Tedisco, has introduced a new bill that would label future "knockout games" as gang assaults. According to WCBS New York, those convicted of the crime under the measure would face up to 25 years in prison and would be tried as adults regardless of their age. The proposal also recommends prison time for anyone convicted of recording the assault while it happens.
You can share this story on social media: