'Brennan the perfect guy to head CIA… if its job is to create more terrorists'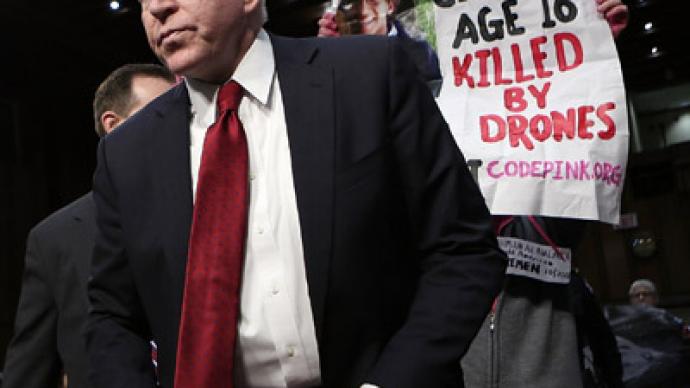 CIA Director-designate John Brennan strongly defended the use of drones for fighting terror suspects as he was grilled by the Senate over one of Washington's most-criticized policies.
John Brennan, President Barack Obama's nominee to be the new CIA chief, had a tough time answering some questions posed by the Senate Intelligence Committee on Thursday. Repeated interruptions by anti-war protesters did not make it any easier for him to explain the advantages of the controversial drone policy. Brennan assured that any actions the CIA would take "will be legally grounded, will be thoroughly anchored in intelligence, will have the appropriate review process, approval process before any action is contemplated, including those actions that might involve the use of lethal force." One of those skeptical of Brennan's words is Jayel Aheram, an Iraq War and Marine Corps veteran, activist and writer who, in an interview with RT, expressed his doubt over the possibility and the commitment of the CIA thoroughly to review the situation on the ground from somewhere far away from the United States. He also questioned the criteria which might be used for such a review, suggesting that "basically anyone over the age of 18 or 16 in a strike zone constitutes a militant. So I could be going to school somewhere in Yemen, going about my day, and if I get obliterated by one of these drone strikes, am I to be considered a militant?"
Aheram believes drone strikes are "long distance murder" and lead to further escalation of violence."If the CIA's job is to make the United States even less safe, if the CIA's job is to export violence and death and destruction in these foreign countries, if the CIA's job is to create even more terrorists through the use of these drone strikes, then John Brennan is the perfect guy to head the CIA."Members of the Senate Intelligence Committee asked Brennan specifically about one of the drone strike targets, Anwar al-Awlaqi, an American in Yemen with ties to Al-Qaeda. His death in a drone strike in 2011 was hailed by President Barack Obama as a major blow to Al-Qaeda, but critics said it amounted to an assassination to deliberately kill a US citizen without a prior attempt to indict him.Brennan explained that capturing al-Awlaqi would have been impossible. He also described as a "misimpression on the part of some American people… that we take strikes to punish terrorists for past transgressions. Nothing could be further from the truth. We only take such actions as a last resort to save lives when there's no other alternative to taking action that's going to mitigate that threat." Experts are supplying proof of the opposite. "Clearly in the Anwar Al-Awlaqi strike there's been no evidence suggested of an imminent threat of an ongoing planned attack. And then in that case a US citizen was struck with a drone missile for having some past involvement… So Brennan is just simply wrong. He is at odds with the record," says Feisal G. Mohamed, Middle East expert and professor at the University of Illinois.Then there's the issue of collateral damage, widely discussed in connection with the drone program.
Colin S. Cavell, author of Exporting 'Made in America' Democracy defines collateral damage simply as innocent people being killed. He believes drone strikes are not only a problem for supposed enemy combatants, but also a matter of concern for most Americans. "What has [Americans] concerned in this particular situation with the drone policy is the Obama administration saying we have the right to kill American citizens. This is a complete denial of our constitutional rights under the 14th Amendment – due process of law and equal protection of the laws," said Cavell.Despite John Brennan facing grilling from senators during his confirmation hearing, Professor Mohamed does not believe that either Republicans or Democrats "really want to take a strong line against Brennan. Nobody wants to appear soft on security… I think whatever happens with the Brennan confirmation, nothing will change this policy until Congress actually dials back the authorization for use of military force it very hastily passed after September 11."
You can share this story on social media: