'Back to the 19th century': Mysterious techno breakdown hits Gitmo 9/11 tribunal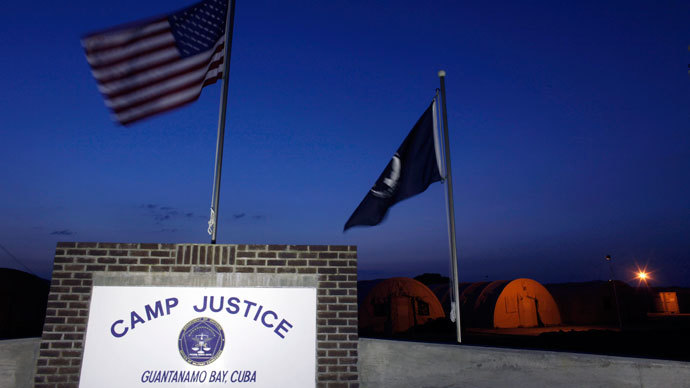 Defense lawyers for Guantanamo detainees asked the judge in the military tribunal on Friday to suspend pretrial hearings as mysterious computer glitches are just the latest technological setbacks to complicate the legal proceedings.
Defense lawyers for Guantanamo detainees asked the military tribunal judge to suspend pretrial hearings as mysterious computer glitches have made their job a 'hot mess' forcing some of them to draft motions with pen and paper.
"We're basically put back in the 19th century," Army Major Jason Wright, who represents the alleged mastermind of the terrorist attacks, Khalid Sheik Mohammed, said on Friday, as quoted by Reuters. "It takes about five to 10 times what it would normally take to do defense functions."
Defense lawyers for five Guantanamo detainees said email correspondences they sent were never received, investigative records that took years to compile had disappeared and external monitors were unable to access their internet searches. Even the prosecuting and defense teams had been given access to each other's files.
The technical problems had started earlier in the year but by April they had become so severe that the chief defense counsel, Air Force Colonel Karen Mayberry, ordered defense lawyers not to use their Pentagon computers for any confidential casework.
The situation became so dire that when Pentagon officials wished to convey messages to legal advisors in other cities, they had to place the sensitive data onto external drives, head to Starbucks and file them via Wi-Fi using their personal computers and personal email accounts, Wright revealed.
Defense attorney James Harrington, who represents Yemeni prisoner Ramzi bin al Shibh, said he had been forced to draft motions with pen and paper.
Another defense attorney for Mohammed, David Nevin, commented: "In this day and age you cannot practice law this way."
He said the chief of staff for the Pentagon official overseeing the military tribunals issued her judgment during a conference call on Thursday, declaring: "This is a hot mess."
Pentagon technical personnel have said it would take "up to 111 days" to fix the glitches once a contract was signed and money allocated, and that it was doubtful the work could be finished before the start of 2014.
The judge, Army Colonel James Pohl, said he would give the matter further consideration at a pretrial hearing scheduled to start on Sept. 16 and decide then whether to cancel hearings scheduled for October, November, December and January.
"I understand the serious nature of being able to communicate as a defense counsel," the judge said.
This is not the first time that the maximum-security tribunal has suffered from 'ghosts in the machinery.'
Judge Pohl in January convened an emergency meeting after it was discovered that some outside source was cutting the audio feed when particular subjects in the trial were being discussed. 
The judge stated he was not happy with this interference and added that he would like some clarification on "who turns that light on or off."
"It's a 'whoa moment' for the court," Human Rights Watch observer Laura Pitter said in January, as quoted by the Miami Herald. "Even the judge doesn't know that someone else has control over the censorship button?"
The five defendants are accused of training and funding the hijackers who allegedly crashed four commercial jets into the North and South Towers of the World Trade Center, the Pentagon and a field in Pennsylvania on Sept. 11, 2001, killing nearly 3,000 people.
The Obama administration has backed down on its promise to close Gitmo and give the detainees civil trials on US territory in the face of extreme Republican pressure.