'Humiliating' body searches dissuading Gitmo detainees from meeting lawyers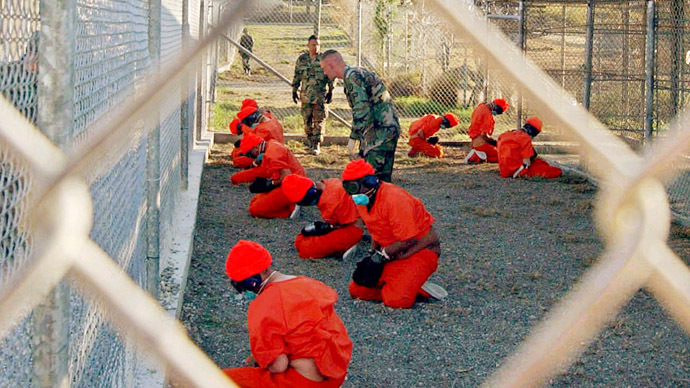 The lawyer for a Guantanamo detainee has told RT that her client has been refusing meetings since June due to "humiliating, degrading" searches that go as far as "physical and sexual assault.
The client, a Yemeni detainee, explained the canceled meetings and phone calls with his lawyer because he was unwilling to undergo invasive searches practiced in the facility.

Follow RT's timeline of the Gitmo hunger strike.

Paradiss Kebriaei, a lawyer at the Center for Constitutional Rights, said she was going to see her client, who was cleared for release later this month, when she received a letter from him asking her not to come as he would have to endure "humiliating, degrading" searches, and even "physical and sexual assault." 
In an interview with RT, Kebriaei said that on the day of their last meeting in June, her client was searched eight times: four times on his way to the meeting room, and four more on his way back to his cell. 
"It took him half an hour to calm down. He was so agitated and so upset," Kebriaei said. "As a result of those searches, he turned down the phone call that we had scheduled for two days after I met with him. In July we received a letter from him, telling us to cancel a trip that we had planned in August to see him, because he couldn't bear to go through those searches."

The lawyer added that not only were detainees rejecting lawyers' visits, but also phone calls with their families, as being moved within the Guantanamo prison meant being subject to the invasive searches. The practice remains in place, despite a ruling by a senior judge at Washington DC District Court that the searches were not justified on security grounds.

"A federal judge there called it an exaggerated response," Kebriaei said. "The government is now appealing, so we'll see what happens." The judge was "quite disturbed by what's going on in Guantanamo and ordered it to stop," Kebriaei added. 
Earlier this week Shaker Aamer, the last British resident imprisoned in Guantanamo Bay, described the  regular assaults, including those of a sexual nature, he suffered from the guards in a declassified phone call, published by the British newspaper The Independent.

"Mostly, that's just an assault, sometimes a sexual assault," Aamer said. "We call it the Gitmo massage." 
In response to RT's questions, Samuel House, the Deputy Joint Task Force Public Affairs Officer at Guantanamo, replied in a written answer: "We don't comment on any detainee allegations made through their defense attorneys, regardless of how ridiculous and absurd the allegations might be." 
Meanwhile, reports have started to appear that some Gitmo detainees staging a hunger strike may be giving up their protest. Kebriaei said that some detainees had decided to temporarily suspend their strike, but could restart it if the Obama administration fails to keep its promise to close down the prison. 
"The crisis that gave rise to the hunger strike persists," Kebriaei said. "It's never been about the numbers, it's been about the reasons why this is going on. And I think as far as the numbers go, there has been a drop in the number of hunger strikers. It's been for different reasons for different people, but there is a core group that we understand has continued."