Lethal brain amoeba found in US drinking water supply for first time
Published time: 17 Sep, 2013 02:53
Edited time: 18 Sep, 2013 08:21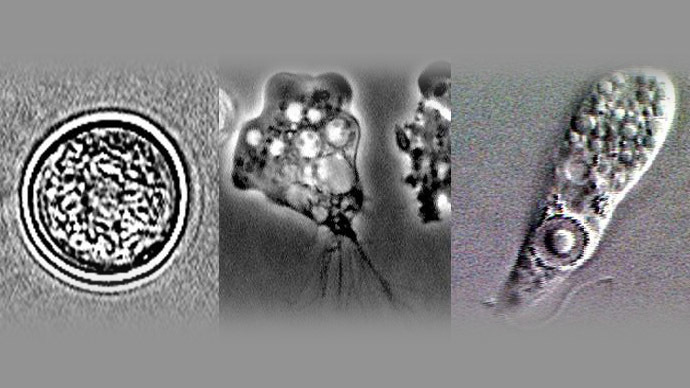 A deadly brain amoeba that has killed two children this year has been found in a drinking water supply, a first in the US, authorities said Monday.
The heat-loving Naegleria fowleri has been found in the water supply system of St. Bernard Parish, southeast of New Orleans, according to tests by the Centers for Disease Control and Prevention (CDC).

The N. fowleri parasite killed a 4-year-old boy in Mississippi and a 12-year-old Miami-area boy in separate incidents earlier this year. A 12-year-old Arkansas girl, Kali Hardig, survived an infection after undergoing an experimental treatment.
"We have never seen Naegleria colonizing a treated water supply before," Dr. Michael Beach, head of water safety at the CDC, told NBC News. "From a US perspective this is a unique situation."
N. fowleri isn't harmful to a human -- even if drank or bathed in -- unless accessed through the nose, where it can attach to nerves that carry olfactory signals to the brain. The amoeba then reproduces, causing brain swelling and almost sure death.
N. fowleri is found in warm, freshwater lakes, swimming areas and hot springs, among other spots. A water system like St. Bernard's, which comes from the Mississippi River, can usually deter the amoeba with routine disinfection, usually chlorination.
"The key to this is understanding that this amoeba is kind of a heat-loving bug," Beach said. "If water temperatures start going up, you really need to be extremely careful about maintaining the disinfectant. The farther you go from a plant, the more likely you are for the disinfectant levels to get low."
N. fowleri has only been reported in about 130 people in the US since 1962. Surviving is extremely rare; Hardig is only the third person known to have survived infection.
The Louisiana health department said the St. Bernard Parish system is being flushed and decontaminated, a weeks-long process according to officials.
"They have shocked the water, so to speak," department spokesman Ken Pastorick said. "What has caused the problem here is low chlorination."