Boston equips city buses with 360-degree live surveillance cameras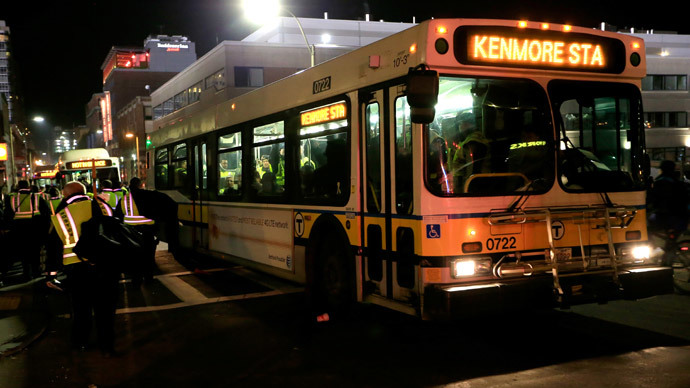 Transportation officials in Boston, Massachusetts began outfitting the city's metro busses this week with a $6.9 million surveillance system funded entirely by the United States Department of Homeland Security.
This week the city began installation of the high-tech and internet-ready cameras on 10 Massachusetts Bay Transportation Authority busses across the greater Boston area, but by summertime they expect to have a fleet of 225 vehicles totally equipped to monitor the activities of MBTA passengers.
Those cameras, a local CBS affiliate reported, consist of new 360-degree lenses that can be embedded in the ceilings and walls to "capture everything."
"What we're trying to do is make everyone on the bus work as an extra set of eyes to help report suspicious behavior or criminal activity," Randy Clarke, the senior director of security and emergency management for the MBTA, told the Boston Globe.
But while law enforcement officers and MBTA officials may soon benefit from those extra sets of eyes, they won't be given the benefit of monitoring bus ride conversations with additional ears: for now, the busses will be absent of any sort of audio recording devices.
That isn't to say that the abilities of the intricate, DHS-funded surveillance system stops right there, though. Journalist Joe Shortsleeve of WBZ-TV says transit police at a downtown dispatch center will be able to tune-in to any live camera feed on-the-fly and remotely view all of the action from a computer system inside the facility. Officers of the law elsewhere in the city will be awarded similar abilities as well, Shortsleeve added, noting that 80 police cruisers will be outfitted with the technology needed to let those cops access video feeds while on patrol.
"It is pretty amazing," MBTA Transit Police Officer Luke Sayers told the CBS station. "You pull up the camera system, then you already have a description of the suspect. He could be looking at the cameras as you are following the bus."
Once the surveillance system is fully rolled-out, MBTA officials expect to have extra eyes covering around 70 percent of their bus routes. Coupled with similar systems elsewhere in the US, public transportation is quickly becoming an avenue where privacy is all but obliterated: the DHS dropped $5.9 million in 2012 towards starting installation of an eavesdropping system in San Francisco, California, and officials in Baltimore, Maryland started plans that same year to equip listening devices on a total of 340 city busses there.
Back in Boston, officials say the DHS funds will help bring a sense of security back to Beantown residents, where 50 MBTA employees were assaulted on the job just during the first six months of last year.
"Although crime is relatively low on buses, the sense of fear that some of our riders have still remains, and we want to reduce that fear for some of the riders," Transit Police Superintendent Joseph O'Connor told the Globe. "Hopefully, this will deter some people from engaging in bad behavior. We think it's going to be a significant positive step for us."
At the time of the Boston Marathon bombing last April, Bloomberg News reported that at least 233 private and public cameras were already in operation in the city's Financial District, equating to nearly six cameras per city block.
You can share this story on social media: