Baltimore bus passengers now subject to secretive eavesdropping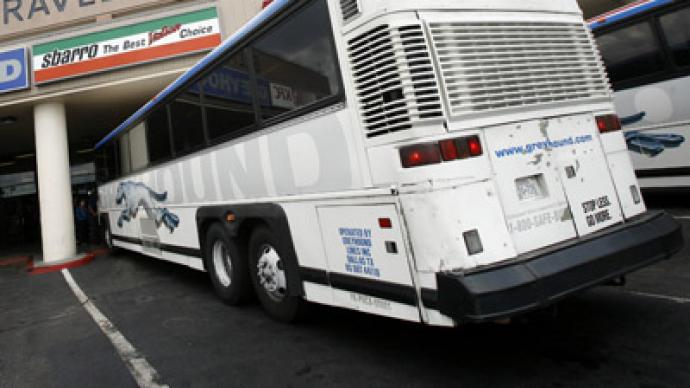 For less than two bucks, a quick trip on a Baltimore, Maryland bus can take any tourist from the boyhood home of Babe Ruth to the National Aquarium. For a city it's size, it's quite a bargain. But is it a price worth paying for losing all privacy?
The Maryland Transit Administration has installed microphones on Baltimore busses so that authorities can have audio to accompany the video traditionally picked up by surveillance cameras on city vehicles. Officials say the new spying powers could aid law enforcement with criminal investigations and bring an extra layer of safety and security to passengers. Not everyone is exactly on board, though.As of last month, 10 city busses have been equipped with the new surveillance devices, with the Baltimore Sun reporting that the MTA hopes to have that number hit 340 by next summer — at which point half their fleet will be fitted with microphones in a system that serves the city's 600,000-plus population."We want to make sure people feel safe, and this builds up our arsenal of tools to keep our patrons safe," Ralign Wells, MTA administrator, tells the Sun. "The audio completes the information package for investigators and responders."Currently, Baltimore busses and others around much of the US are equipped with video cameras in order to supply police officers with an accurate portrayal of what the drivers' rear-view mirrors pick up, and it's not without reason. Just weeks before the busses began using microphones, a 19-year-old girl was brutally assaulted by two men on board a MTA bus, hardly an outlier for a city that isn't exactly known as the safest on the East Coast: a 2011 study released by the FBI found that Baltimore was the fifth-deadliest city in the nation in terms of homicide rates. The Sun explains that right now there are anywhere from 45 to 100 different emergency calls placed every day from MTA bus drivers under distress to police dispatchers, and as Wells puts it, installing mics makes sense for the sake of adding to that "information package" already made available and only supplements the streams picked up by cameras. When the two are put hand-in-hand, though, any utterance spoken slight enough to be picked up by audio sensors could be used in criminal investigations. For now, though, it doesn't necessarily stop right there."If this is something that's necessary and useful, standards must be set for oversight and accountability," State Senator Brian Frosh (Democrat, Montgomery County), tells the paper. "The job of figuring this out definitely should not be left to the agency doing the listening."Three weeks into the program, little information has been made easily available about what kind of safeguards are being used to ensure that the microphones aren't just the next step in speeding up the progression into a full-fledged surveillance state. What is known is that every bus equipped with the latest additions are connected to the cameras already in place in six positions on each vehicle, and those conversations are then stored on site for 30 days in a locked black-box device. The MTA's Wells says the Maryland state attorney general's office approved the endeavor after legal counsel agreed a 2000 appeals court decision had determined any eavesdropping equipment on the bus wouldn't break state wiretapping laws.As recently as 2010, though, prosecutors in Maryland were still trying to take civilians to court for recording the activities of law enforcement officers — something argued illegal under the state's troubling wiretapping law. Currently Maryland is still one of only 12 in the US that has "two-party consent" laws on the books, meaning if an officer says he didn't approve a recording of his actions, the person rolling tape can be put behind bars. That has raised a lot of questions itself, over how an officer's actions, on duty, can be considered public or private. The ACLU continues to challenge this and other eavesdropping laws, but for now citizens of Baltimore will have to be subjected to surveillance themselves — and it looks like forking over $1.60 in bus fare is the only consent tthey'll have to give.State Sen. Jim Brochin (D-Baltimore County) believes the recorders are being put in place without taking into account that same consent law that limits how civilians can roll tape on police officers, and he suggests that the state legislature will have to respond during the next session in the capital city of Annapolis. "It's an end run and ripe for a court challenge," the senator says to the Sun. "They have absolutely no grounds to do this. If we can't get them to listen and change their minds, we'll deal with this … and make them defend what's indefensible.""People don't want or need to have their private conversations recorded by MTA as a condition of riding a bus," David Rocah, a staff attorney with the Maryland chapter of the ACLU, adds to the Sun. "A significant number of people have no viable alternative to riding a bus, and they should not be forced to give up their privacy rights."