Boston Marathon bombing suspect charged with multiple murders, WMD use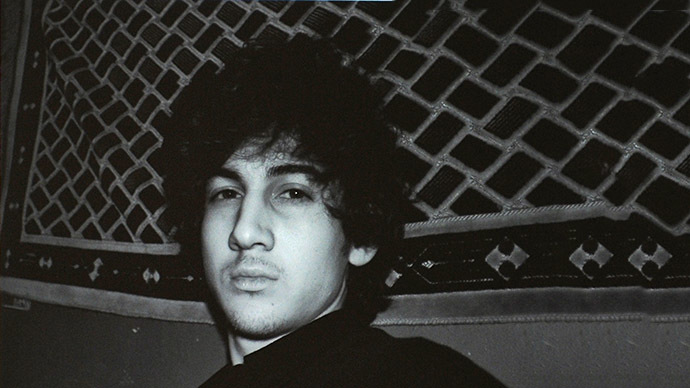 Boston Bombing suspect Dzokhar Tsarnaev has been officially charged with killing four people and using weapons of mass destruction, federal prosecutors announced Thursday. Tsarnaev, 19, faces a potential death sentence over the alleged crimes.
According to the United States Attorneys' Office, 17 of the 30 charges levied against the teenager carry a penalty of life in prison or execution. 
"The defendant's alleged conduct forever changed lives," prosecutors said in a statement. 
Officials believe the former UMass Dartmouth student and his older brother Tamerlan planted homemade explosives near the finish line ahead of the April 15 race. The double explosion that went off as runners crossed the line en masse caused three deaths and 264 injuries. 
The indictment says the Tsarnaev brothers used pressure cookers stuffed with low-explosive powder, ball bearings, nails, adhesive, electronic components, and other substances to manufacture their devices. 
Jahar Tsarni, as prosecutors referred to him, is also charged with carjacking resulting in serious bodily injury. While fleeing the police, the brothers stopped a vehicle and ordered the driver to turn over the car and $800, according to officers. 
"I thought it was just a robbery...He took out his gun, pointed it to me," the carjacking victim told CBS. "He told that, 'You know I am serious. Don't be stupid.'" 
Four days later, the Tsarnaev brothers allegedly killed a police officer during a firefight. Tamerlan also died in the incident.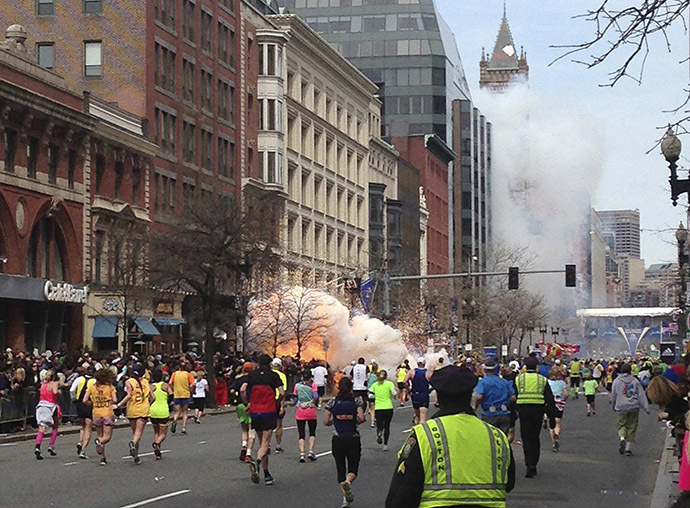 A wounded Dzokhar later hid inside a boat in the backyard of a Watertown, Massachusetts residence. He was arrested after a massive manhunt and placed in a medical prison facility where he has stayed ever since.
Prosecutors say Tsarnaev scribbled an anti-government message as he bled from a throat and leg wound, waiting for the police to find him.
"The US Government is killing our innocent civilians. I can't stand to see such evil go unpunished. We Muslims are one body, you hurt one you hurt us all," it read, the indictment claims. "Stop killing our innocent people, we will stop."
One of the passages, the FBI claimed, quoted Anwar al-Awlaki, the American propagandist killed in a 2011 drone strike in Yemen. Previous reports indicated that Tamerlan Tsarnaev watched Awlaki's speeches on YouTube. 
"Today's indictment is the result of the dedicated and collective efforts of law enforcement and intelligence partners, working with a sense of urgency and purpose to find those responsible for those deadly attacks," said FBI Director Robert S. Mueller. "These continuing efforts reflect the pursuit of justice for those who lost their lives and the scores of individuals who were injured." 
While the indictment did not speculate on any larger conspiracy behind the attacks, prosecutors did say they found an issue of Inspire magazine - an English language Al-Qaeda publication - downloaded by Dzokhar. The literature, which was dated  summer of 2010, contained "detailed instructions for constructing IEDs using pressure cookers, explosive powder from fireworks, shrapnel, adhesive and other materials," the indictment read. 
"IEDs constructed in this manner are designed to shred flesh, shatter bone, and cause extreme pain and suffering, as well as death." 
Dzokhar was initially unable to talk, but said in a phone call released by his mother earlier this month that he is well-fed and recovering physically.
The Tsarnaev brothers are ethnic Chechens and have roots in Russia's North Caucasus – a region that has witnessed a massive Islamist insurgency in the past and partly remains a hotbed of extremism.
You can share this story on social media: