Border Patrol rejects review suggestion to curb deadly force against rock-throwing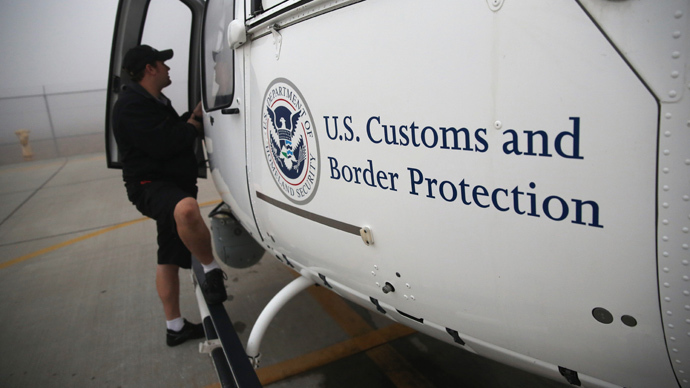 The United States Border Patrol rejected a recommendation from a government-commissioned review for the agency to stop using deadly force against anyone throwing rocks at agents.
The non-profit group Police Executive Research Forum, which advises law enforcement agencies, recommended the Border Patrol and its parent agency, Customs and Border Protection (CBP), to cease using deadly force against rock throwers and assailants in vehicles.

CBP rejected both suggestions, allowing agents to continue using force against anyone who simply throws a rock at them as long as they believe their lives or lives of others are in danger.
The recommendations was part of an internal review of the CBP's use-of-force policies and practices that began last year. CBP's revised policy was announced on Sept. 25. It called for more training and better record-keeping.
Border Patrol Chief Mike Fisher told the AP that CBP viewed the recommendations as "very restrictive."
"We shouldn't have carve-outs in our policy and say, except for this, except for that," Fisher said. "Just to say that you shouldn't shoot at rock-throwers or vehicles for us, in our environment, was very problematic and could potentially put Border Patrol agents in danger."
CBP has not released the full suggestions from the review board.
The internal probe began last year after 16 members of Congress called attention to the May 2010 killing of Anastasio Hernandez, an unarmed Mexican man who died of gunshot wounds near San Diego's San Ysidro port of entry. Authorities claim Hernandez was being combative as he was being returned to Mexico. The US Justice Department is investigating the slaying.
Hernandez was one of 20 people killed by CBP since 2010, including eight who died as a result of throwing rocks at Border Patrol agents, the American Civil Liberties Union says.
Fisher said the agency's position is that rocks are lethal weapons. Rock, bottles and other objects are often thrown at agents to create diversions.
In the 2011 fiscal year, agents were involved in 339 rock-throwing incidents, more than any other type of assault, according to the US Department of Homeland Security's inspector general. Of those 339 incidents, they responded with gunfire 33 times and less-than-lethal force, which includes pepper spray and batons, 118 times.
Rock assaults fell to 185 in FY2012, with agents firing their guns 22 times and responding with less-than-lethal force 42 times.
Should the Border Patrol have taken the recommendation on firing at vehicles, it would have been in line some major US police departments, Fisher said. But he called federal agents' terrain much different.
"You don't want to just start shooting indiscriminately at a vehicle and try to blow out tires like they do on TV, but our environment is totally different," Fisher said. "In many cases, unlike a concrete jungle, you have a very narrow trail and the Border Patrol agent doesn't always have the ability to get out of the way."
Fisher denied Border Patrol agents were trigger-happy.
"When you look at that environment, that workspace, I think our agents show a great deal of restraint when it comes to use of deadly force," he said.