Bloomberg stands by screwing journalists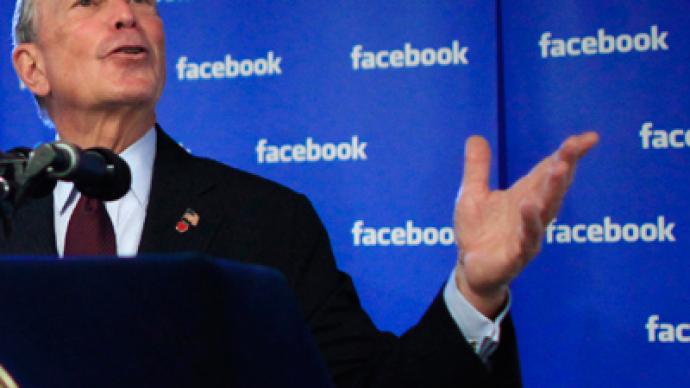 Is it really that weird that bad press continues to plague New York City Mayor Michael Bloomberg when he talks bad about the press?
Speaking Friday morning to a New York radio station, Mayor Bloomberg once more defended the media blackout he blanketed over Occupy Wall Street, insisting that the press have been cry babies over how he and his army, the NYPD, killed the First Amendment rights of journalists whose job has been to report from arguably the biggest domestic story of the year.To Bloomberg, the Bill of Rights is a bunch of hogwash."The press made a big deal that they were denied their rights," the mayor said Friday morning during a weekly segment with WOR Radio. "You don't have a right as a press person, I don't think, to stand in the way just in the interest of you getting a story."Last month NYPD Commissioner Ray Kelly added that reporters "didn't have a right to be there" doing coverage "because there was confusion as to what they were allowed to do."Last we checked, reporters are allowed to report. Friday morning, the mayor insisted, "We didn't keep anybody from reporting. They just had to stand to the side while the police did their job."That job, by the way, has led to over a thousand protesters being arrested for peacefully participating in legal demonstrations and several serious injuries. In the early days of the movement, Officer Anthony Bologna was docked several days' vacation time for his assault on protesters. In the months since, demonstrations and journalists alike have reported being beaten by cops. In November, some of the largest media outlets in America and the world signed a letter protesting the city's treatment of journalists. New York responded by saying they would be more cautious and instead cracked down on the movement itself, arresting and evicting hundreds from the hub of the protest.Bloomberg, of course, didn't touch on the topic Friday morning of how the New York Police Department overzealously assaulted and arrested journalists, several of whom had received accreditation from the NYPD itself. Keep in mind that for those brave men and women that decide to report from the battlefront overseas, those rights do exist."We did the right thing," added the mayor.Those working under Bloomberg and those hoping to usurp him from his throne as boss of the Big Apple seem to agree that the barring of reporters from coverage Occupy Wall Street has been atrocious. "American foreign correspondents routinely put themselves in harm's way to do their jobs, in some of the most brutal dictatorships in the world. And their NYC colleagues deserve the freedom to make the same choice," Manhattan Borough President Scott Stringer said in a statement last month. "Zuccotti Park is not Tiananmen Square."Additionally, Representative Jerrold Nadler called out Bloomberg earlier this week and asked for a federal investigation into the NYPD's outrageous raid and subsequent clearing out of Zuccotti Park. On Friday, Bloomberg called any such investigation "ridiculous." "I think he's wrong," Bloomberg added of Mr. NadlerBloomberg also failed to discuss on Friday how the city was dealing with Brookfield Estates, the owner of Zuccotti Park, which owes the city around $139,000 in back taxes. Diana L Taylor, Bloomberg's girlfriend, was paid almost that sum just for sitting on the company's board of directors for nine meetings in 2009.
You can share this story on social media: