Bloomberg accused of threatening to 'destroy' New York's taxi industry
Published time: 24 May, 2013 02:39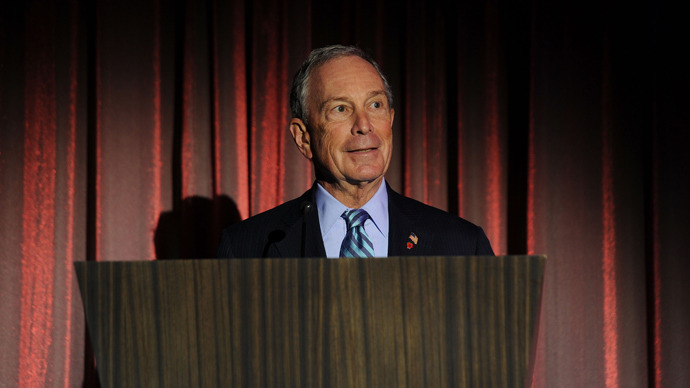 New York mayor Michael Bloomberg has found himself at the center of unwanted media attention after allegedly unleashing a profanity-laced tirade against the CEO of a large taxi fleet company over his opposition to the city's "Taxi of Tomorrow" plan.
The altercation, which is said to have occurred last Thursday during a basketball game at Madison Square Garden's private 1879 Club, was ignited when Gene Freidman, the CEO of Taxi Club Management, approached Bloomberg.

The encounter was only a day after a State Supreme Court judge ruled that the mayor's plan to replace New York City's taxi fleet with a Nissan-built Taxi of Tomorrow vehicle violated city code, which requires a hybrid option. Nissan's NV200, the vehicle that won a competitive bid to become the so-called taxi of tomorrow, is not a hybrid.

Freidman alleges that after he approached Bloomberg at the club, the mayor, set to end his third and final term at the end of this year, became visibly agitated, the New York Post reports.

"I saw Bloomberg and his security there in the club, so I went over and said, 'Tell me what is going on with the Taxi of Tomorrow?' He turns to me, and said, 'Come January 1st, when I am out of office, I am going to destroy your fucking industry,'" said Freidman.

"I said, 'Whoa, Mr. Mayor, calm down! Why can't I sit down with you and figure out something that works?' He got back in my face and said, 'After January, I am going to destroy all you fucking guys'," added Freidman.

Bloomberg's alleged comments appeared to be aimed at efforts by Freidman's company, as well as those by the Greater New York Taxi Association and Committee for Taxi Safety, to thwart the implementation of the uniform taxi cab scheme, which would require their fleets to convert to Nissan's bulbous, mini-van like vehicle, which is specifically designed for easy handicapped access and features a 'lower-annoyance' horn.

The project has been in the works for years at the mayor's office. Nissan's design beat out both Ford's entry and a more unusual design by Turkish carmaker Karsan in May of 2011. The new cars were set to roll out by the end of the year, and despite the recent court ruling the city's Taxi and Limousine Commission (TLC) remained convinced the program would go ahead as scheduled.

"This ruling will not delay the ToT's implementation," said TLC Chairman David Yassky, referring to the program.

In response to last week's altercation with the mayor, Freidman, whose company operates a fleet of 925 yellow cabs in New York City, has filed a lawsuit against Bloomberg.

The suit, which was filed in a Manhattan federal court on Wednesday, charges the mayor with threatening Freidman, and of punishing his company by instructing TLC inspectors to hit it with retaliatory fines totaling some $3.5 million.

According to the suit, TLC chairman Yassky had offered to expunge the fines in exchange for the CEO's cooperation with the Taxi of Tomorrow plan.

"In other words, Yassky was offering to exercise his discretion in a manner favorable to Freidman in exchange for a benefit in the form of political support for Taxi of Tomorrow," the suit alleges.

In response to the suit, Bloomberg spokeswoman Julie Wood downplayed the claims.

"It's not uncommon for disturbed and angry people to file lawsuits against the Mayor and the City of New York. This is another effort by Mr. Friedman to avoid hundreds of thousands in fines for constantly cheating taxi drivers," said Wood.

On Wednesday, Mayor Bloomberg had sidestepped questions regarding the Madison Square Garden altercation with Friedman.

"The only thing I remember from that night was the [basketball] court. It was the court in the middle of Madison Square Garden and the Knicks won," said Bloomberg.

"It was a great game … that's all I remember from that night," he added.