US blood supply at emergency levels
Published time: 31 Jul, 2012 21:37
Edited time: 1 Aug, 2012 01:37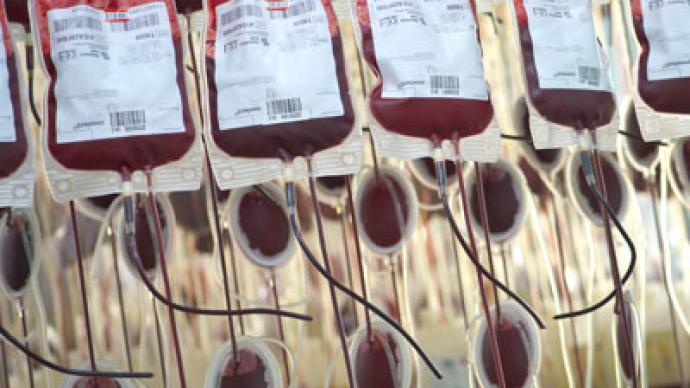 Accident-prone Americans: be aware! The Red Cross says that they are experiencing a 15-year low with blood supplies, and to make matters worse the country is also being hit with a severe shortage of doctors.
The American Red Cross says that the number of blood donors they saw in June was around 50,000 fewer than expected, and now the agency's supply is the slimmest it has been since the end of the twentieth-century.
According to one of the agency's latest press releases, the amount of blood ready to be used has reached emergency levels, and anyone about to go under the knife is being affected.
"There is always the chance that a physician could postpone an elective surgery if the needed blood products aren't readily available," Dr. Richard Benjamin, chief medical officer for the American Red Cross, tells reporters. "In a worst case scenario, a physician may have to forego performing a more serious procedure for a patient because of a shortage of blood. We need to do everything we can to make sure it doesn't get to that point."
The Red Cross adds in a statement that they usually see a decline in donors during America's summer months, with CEO Jim MacPherson equating it to USA Today as being "a constant struggle."
Red Cross spokeswoman Karen Stecher adds that "We just aren't seeing the donors coming through the door right now," and MacPherson says, traditionally, the lack of donations during August makes it "the killer month."
Unfortunately for the medical community, it isn't just blood supplies that are dwindling. The Association of American Medical Colleges estimates that the United States will have 62,900 fewer physicians in 2015 than what the expected population would warrant, and by 2025 the US medical community might be as much as 100,000 bodies shy of what's needed.
Dr. G. Richard Olds, formerly with the University of California, Riverside, tells the New York Times that things aren't looking well right now in the States and don't stand to be getting any better. "We have a shortage of every kind of doctor, except for plastic surgeons and dermatologists," says the physician, who adds that "We'll have a 5,000-physician shortage in 10 years, no matter what anybody does."
Now with the Supreme Court ruling in favor of US President Barack Obama's health care mandate, an additional 300,000 Americans are expected to be granted medical coverage by 2014. In all that will mean that around 30 million Americans will need physicians, and according to the Times, it takes a decade just to train a single doctor.