Blackwater guards finally face manslaughter charges
Published time: 6 Jun, 2012 18:10
Edited time: 6 Jun, 2012 22:10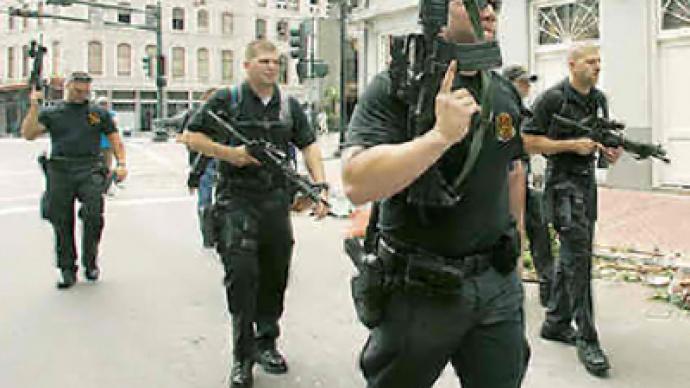 The US Supreme Court ruled this week that it will not allow the four private security guards indicted in a 2007 Iraqi massacre to appeal charges related to the slaying.
Four former employees of Blackwater Worldwide — Paul Slough, Evan Liberty, Dustin Heard and Donald Ball — will once again face criminal charges for their role in the September 16, 2007 killing that left 14 Iraqi civilians dead. Twenty others were wounded during the altercation, which erupted near Nisour Square in downtown Baghdad.
The Supreme Court weighed in this week to decide on whether or not to allow an appeal that could have meant the dismissal of manslaughter and weapons charges against the employees. A federal judge had previously ruled that the defendants' Fifth Amendment right that protects them against self-incrimination was violated in the case because prosecutors used statements in the original trial that should not have been allowed in court. An appeals panel fought that decision, however, which brought the case all the way to the Supreme Court this week.
Bruce Bishop, an attorney for the defendants, claims that the government encouraged his clients to make statements in the immediate aftermath of the incident that were later used in court to charge them at a later date.
"The issue is of national importance," Bishop tells Reuters. "The privilege against self-incrimination is a fundamental and universal value in Anglo-American justice."
After Federal Judge Ricardo Urbina originally threw out the case on December 31, 2009, Blackwater reportedly compensated some of the victims' families with $100,000 each, reports the Guardian. A federal appeals court picked up the case after, however, and spent months hearing closed-door testimonies before reinstating the charges in April 2011.
On the prosecutions part, federal attorneys say that they have enough evidence as is to continue with the case. That claim was enough for the Supreme Court to reject hearing the appeal this week. The country's top justices made their decision on Monday without comment and now the four defendants will likely stand trial in the slaying.
A fifth guard, Nicholas Slatten, was previously let off the hook for an alleged role in the slaying. Jeremy Ridgeway, a sixth participant, pleaded guilty to voluntary manslaughter and attempted manslaughter.
"None of these victims was an insurgent, and many were shot while inside of civilian vehicles that were attempting to flee," Slatten told investigators.
In the years since the Nisour Square massacre, Blackwater changed its name to Xe Service LLC and then Academi, under which it currently operates. Last year Academi CEO Tim Wright told Wired's Danger Room, "As we make changes and they take root and we convince everyone they're real … then the real proof in the pudding is convincing the government of Iraq and the U.S. government to let us do business in Iraq."