Bill Gates becomes 'Secret Santa' on Reddit
Published time: 19 Dec, 2013 20:05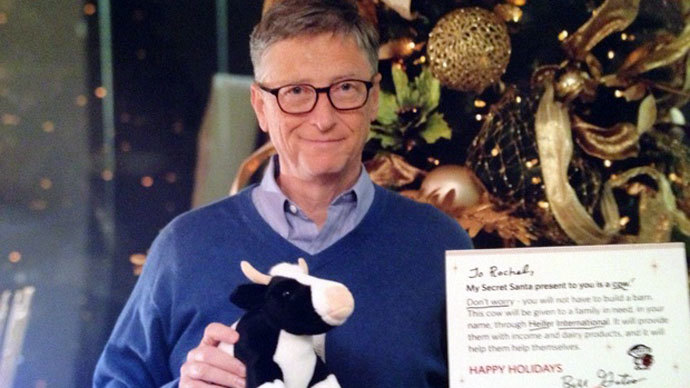 Billionaire Microsoft co-founder Bill Gates surprised a user of the website Reddit this week when he revealed himself to be the sender of a "Secret Santa" package arranged through an online gift exchange.
A woman who has identified herself as "Rachel" (or Reddit user "NY1227") posted on the web forum on Wednesday to express her disbelief after opening a package she received in the mail from another Redditor.
The package read "To Rachel, from Bill," but the recipient didn't immediately realize the actual identity of the "Secret Santa" sender.
Rachel wrote that she ripped through a package from "Bill" containing a greeting card, a stuffed animal and a copy of a National Geographic "Journeys of a Lifetime" travel book before she was able to realize who had selected her in the secret gift exchange.
"I thought Bill sounded like a friendly fellow. In fact, I had this whole image of this poor guy named Bill trying to navigate my wishlist full of makeup, nailpolish, glittery things to buy me," Rachel wrote.
"Quite frankly I felt bad for this 'Bill' since I'm a self-identified pain in the ass to shop for. I finally opened the card and realized that 'Bill' (I use quotes, because like I said, I still didn't realize that this was THE Bill) had donated to a charity on my behalf."
Indeed, it wasn't makeup or "glittery things" at all in the package, but a presumably generous contribution made in Rachel's name to the Heifner International charity — which helped the recipient understand the significance of the stuffed cow she had shipped to her in the mail.
"My Secret Santa present to you is a cow!" reads the accompanying card from Gates. "Don't worry — you will not have to build a barn. This cow will be given to a family in need, in your name, through Heifer International. It will provide them with income and dairy products, and it will help them help themselves." On their website, the company says "The goal of every Heifer project is to help families achieve self-reliance," which they've aimed to achieve by providing assistance to roughly 18.5 million families since the 1940s.
"Heifer partners with community groups to form development plans and to train beneficiaries in animal well-being, agroecology, water quality, gender equity and community development, among other topics," their website reads. "The training enables them to care for livestock, grow crops sustainably and further lift themselves out of poverty."
"I took a break from my present to research the charity a bit, and now the stuffed animal cow made sense," Rachel wrote on Reddit. "I was so excited, the cause seemed really worthy and amazing, and it is the season of giving."
Only after 35 minutes or so, she wrote, did she notice that the card was autographed by Gates underneath a "Happy Holidays" message alongside and a stylized version of the Reddit mascot adorned in the Microsoft creator's trademark glasses. He also included in the package a photograph of himself holding the cow and card for authenticity.
"It makes me so happy that he was able to donate to a charity on my behalf that helped people with both needs and educational benefits," she added.
As of Thursday Rachel says she hasn't been able to directly contact Gates to thank him for his donation, but hopes she'll be able to write to him personally express her appreciation.
In the meantime, she signed her open letter on Reddit with an apology meant for Gates if he gets around to surfing the website sometime soon.
"Sorry for the Apple iPad on my wishlist," she wrote, "that was really awkward."