Ben Bernanke gets $250k for his first post-Fed speech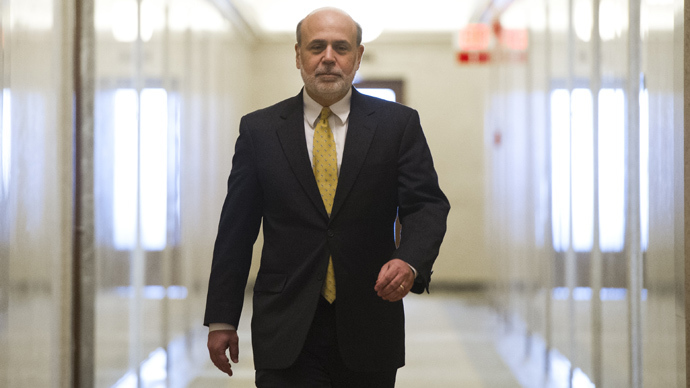 If his first post-Fed speaking engagement is any indication, former US Federal Reserve Chairman Ben Bernanke is in for quite the payday.
According to Reuters, Bernanke was paid $250,000 to speak in Abu Dhabi on Tuesday. Although it was his first time engaging the public since stepping down as Fed chief last year, Bernanke earned more in less than an hour than he did throughout the entirety of 2013, when he was paid just under $200,000.
What's more, given the fact that current Fed chair Janet Yellen is expected to largely continue the policies put in motion by Bernanke, the former chairman will likely be heavily sought after to provide insight over the Reserve's decision-making process and possible future course. At least one speaking-circuit agent told Reuters that he'll likely earn around the same amount per speech for the foreseeable future.
"He will obviously be enjoying the fruits of the free market," added Jan Baran of the election law and government ethics group at the Wiley Rein LLP law firm. "He will personally experience supply and demand."
Speaking in Abu Dhabi along with former US Treasury Secretary Lawrence Summers, Bernanke generally avoided topics regarding monetary policy, focusing primarily on his own experience during the financial crisis that began in 2007 – a topic that may also become a book if the right publisher comes along. He reportedly admitted the Fed could've done more to help the struggling US economy during his time as chairman.
Meanwhile, questions from those in attendance – each of whom paid $2,000 to attend – stayed in lighthearted territory as well, leading into topics like family life and baseball.
Although he was certainly paid a handsome fee, Bernanke is just the latest in a line of former government officials to take advantage of the speaking circuit after leaving their posts. Former Fed chairman Alan Greenspan took in a similar $250,000 fee to speak at a private dinner in 2006. That same day, he participated in a private chat with investors for an additional $120,000.
As noted by Reuters, Greenspan's private speeches did come under fire for "giving high-paying investors a potential leg up on their competitors with closed-door remarks about interest rates." When asked about any legal pitfalls when it came to offering such information, though, Baran told Reuters that Bernanke has nothing to worry about.
"He's free to offer his own views either historical or forward-looking," said Baran. "Nothing sounds illegal or unethical and in fact it sounds fairly routine."
Despite the generous sum of cash awarded to Bernanke, he's still far away from the kind of money paid to former President Bill Clinton, who was sometimes paid more than double that amount.
You can share this story on social media: