More Walter Mitty than James Bond: How climate change expert posed as CIA agent for 10 years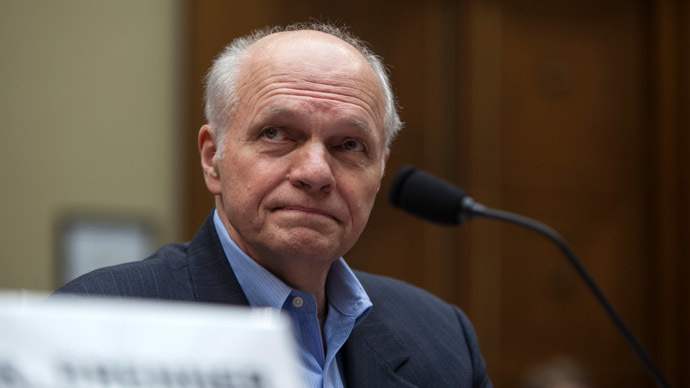 A leading American expert on climate change and the Environmental Protection Agency's highest-paid employee, deserves to spend 30 months behind bars for lying to his bosses about being a CIA spy to avoid doing his real job, US federal prosecutors say.
Prosecutors described John Beale's actions as "crimes of massive proportion" that were "offensive" to those who actually work for the CIA, NBC reported.
Beale pled guilty in September, and has been accused of major fraud of almost $1 million in salary and other benefits over a decade.
While Beale claimed to have a James Bond-style lifestyle, in reality he was leading a Walter Mitty-style fantasy double life.
At one point, Beale in fact claimed to be urgently needed in Pakistan because the Taliban was torturing his CIA replacement, according to EPA Assistant Inspector General Patrick Sullivan, who headed the investigation into Beale's activities.
"Due to recent events that you have probably read about, I am in Pakistan," Beale wrote to Gina McCarthy, the EPA's administrator, in an e-mail dated December 18, 2010. "Got the call Thurs and left Fri. Hope to be back for Christmas ….Ho, ho, ho."
The EPA official also failed to show at his workplace for long stretches of time, for instance, 18 months starting from June 2011. During this period, he did "absolutely no work," according to Beale's lawyer.
In 2008, Beale didn't show up at the EPA for six months, telling his boss that he was part of a special multi-agency election-year project relating to "candidate security." He billed the government $57,000 for five trips to California that were made purely "for personal reasons," his lawyer acknowledged. It turned out that Beale's parents lived there.
He also claimed to be suffering from malaria that he got while serving in Vietnam – another story that turned out to be a lie.
Among his bonuses and travel expenses were first-class trips to London, where he stayed at five-star hotels and racked up thousands in bills for limos and taxis.
However, most of the time Beale avoided work he was at his Northern Virginia home, riding bikes, doing housework and reading books, or at a vacation house on Cape Cod – all while he claimed he was at the CIA's Northern Virginia headquarters.
"He's never been to Langley (the CIA's Virginia headquarters)," said Patrick Sullivan. "The CIA has no record of him ever walking through the door."
At the same time, Beale had been the highest-paid official at the EPA, receiving $206,000 a year.
Beale's scam was revealed in 2013 when it was noticed that he was still receiving his salary a year and a half after he retired.
When first questioned by EPA officials early in 2013 about his alleged CIA undercover work, Beale brushed them off by saying he couldn't discuss it, according to Sullivan.
Weeks later, after being confronted again by investigators, Beale admitted to lying, but "didn't show much remorse" and explained he acted this way to "puff up his own image."
Through his lawyer, Beale has asked the prosecution for leniency, blaming his behavior on psychological problems.
"With the help of his therapist, Mr. Beale has come to recognize that, beyond the motive of greed, his theft and deception were animated by a highly self-destructive and dysfunctional need to engage in excessively reckless, risky behavior," attorney John Kern wrote.
The lawyer added that the desire to manipulate people by making up grandiose lies stemmed from Beale's "insecurities."
The two sentencing memos and other documents on the trial present new details of the case that's been branded one of the most audacious and creative federal frauds in history.
"I thought, 'Oh my God, How could this possibly have happened in this agency? I've worked for the government for 35 years. I've never seen a situation like this," Patrick Sullivan told NBC News.
One of the most important points raised by the investigation was that why it took the EPA administration so long to start looking into Beale's grandiose stories.
"There's a certain culture here at the EPA where the mission is the most important thing. They don't think like criminal investigators. They tend to be very trusting and accepting," Sullivan said.
It was revealed that Beale publicly retired, but kept getting his salary for another year and a half, with his expense vouchers approved by his colleague whose conduct is now looked into.
Beale is set to be sentenced in Washington on Wednesday.
You can share this story on social media: