Female cops sue police dept for deploying secret surveillance cam in locker room
A police department in Battle Creek, Michigan is being sued by one former officer and two currently employed cops who say their superiors secretly installed a surveillance camera in the woman's locker at a local precinct.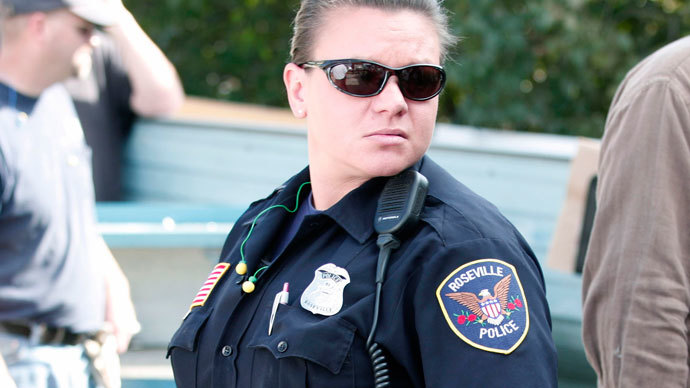 The suit, filed this week in the United States District Court for the Western District in Grand Rapids, accuses the Battle Creek Police Department of violating the Fourth Amendment-protected right to privacy of past and present female officers. Three of them have obtained an attorney and are now seeking unspecified monetary relief.
According to the claim, Inspector Maria Alonso of the department's Internal Affairs Division was told in late 2012 that there had been instances of theft occurring in the women's' locker room of the Battle Creek Police Department. Upon approval of her superiors, Alonso installed a surveillance camera in the room sometime the following January and used evidence obtained by it to allegedly implicate a plaintiff in the case of robbing co-workers by rifling through their lockers.
Plaintiff Laurie Gillespie was shown the video shortly after and, according to the complaint, was depicted in the clip "going through at least two open lockers" while in uniform.
That same tape also caught Gillespie disrobing on film and captured her bare breasts, however, which were then screened to the defendants during the viewing of the surveillance footage in which several men were also present.
"Plaintiff Gillespie was extremely embarrassed and started crying," her attorneys claim in the paperwork. Nevertheless, Alonso continued to play the tape before an audience and Gillespie was reportedly told not to speak of it unless she wanted to be fired. She was ultimately terminated less than two months later.
Gillespie "had an expectation of privacy in this locker room," her attorneys write in the complaint. "She believed the locker room was for females only.She had no knowledge of a camera ever being installed in the locker room."
"There was no legal review of the plans before the cameras were installed," her attorney, Hugh Davis of Detroit, told the BC Enquirer on Wednesday. "As far as we know they did not seek any legal authority or a lawyer's opinion."
Two current employees of the BCPD have since signed off as plaintiffs as well and say they had no knowledge that video and audio recordings would be made in a room where they regularly disrobed upon a presumed expectation of privacy.
"The acts of defendants, and each of them, were undertaken intentionally, maliciously, recklessly and with callous disregard for plaintiffs' rights and welfare," their attorneys claim, adding that the incident has left the plaintiffs with "a loss of personal privacy and self-esteem" as well as "shame and shock."
Attorneys for Gillespie and co-plaintiffs Jennifer McCaughna and Shawn O'Bryant list the City of Battle Creek, Police Chief Jackie Hampton, Deputy Chief James Saylor, Inspector Alonso, Deputy Inspector Randy Reinstein, Lt. Stephen Bush and Sgt. Chad Fickle as all defendants in the case.
You can share this story on social media: