Chicago teacher suspended for showing tools to students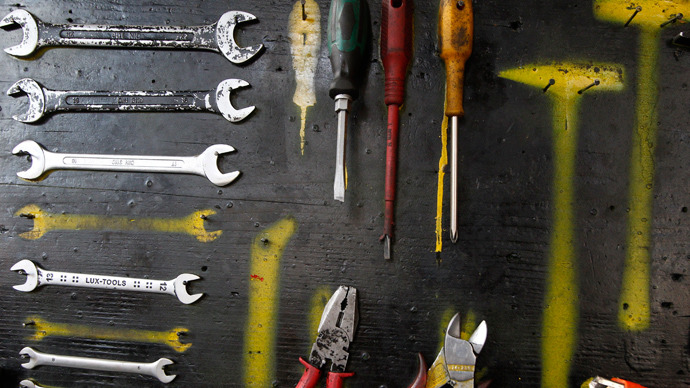 A second-grade teacher was suspended for bringing garden-variety tools into class, and now he's taking his case from the schoolroom to the courtroom.
The Rutherford Institute has filed a civil rights suit on behalf of Doug Bartlett, a Chicago public school teacher who was suspended for four days during the 2011-2012 school year for bringing wrenches, screwdrivers, a pocket knife and other tools into the classroom.
During an August 8, 2011 class, Bartlett led a group of second graders through a curriculum-mandated "tool discussion" that went over the basics of elementary implements. To assist, Bartlett brought what his attorney call several "garden-variety tools," including a box cutter, a 2.25" pocketknife, wrenches, screwdrivers and pliers.
"The visual aids were used in an effort to facilitate student understanding and remembrance of the curriculum," his attorney told a United States District Court judge in a legal filing last month. "As he displayed the box cutter and pocketknife, [Bartlett] specifically described the proper uses of these tools. Neither of these items was made accessible to the students."
Bartlett thought he was just being a good teacher, but word of that day's lesson plan soon got out. A week later an observer made a complaint about the instruction, and Bartlett was in turn charged with possessing a weapon, negligently supervising children, inattention to duty and violating school rules.
According to the student handbook used to discipline Bartlett, "Any object that is commonly used to inflict bodily harm, and/or an object that is used or intended to be used in a manner that may inflict bodily harm, even though its normal use is not as a weapon."
For bringing the tools into school, Bartlett was suspended without pay for four-days. His attorneys say as a result their client "suffered humiliation, embarrassment, mental suffering and lost wages," and are now asking a judge in the Northern District of Illinois for "nominal and compensatory damages" and for the suspension to be expunged from the teacher's record.
"This school district's gross overreaction to a simple teaching demonstration on basic tools such as wrenches and pliers underscores exactly what is wrong with our nation's schools," Rutherford Institute President John Whitehead said in a statement.
"What makes this case stand out from the rest is that this latest victim of zero tolerance policies run amok happens to be a veteran school teacher," Whitehead said.
Bartlett's counsel has filed the complaint against the City of Chicago School District and Valeria Newell, the elementary school principal that approved of his suspension. They are asking for a trial by jury.
You can share this story on social media: