Prosecutors: Barrett Brown and Anonymous 'secretly plotted the overthrow of the government'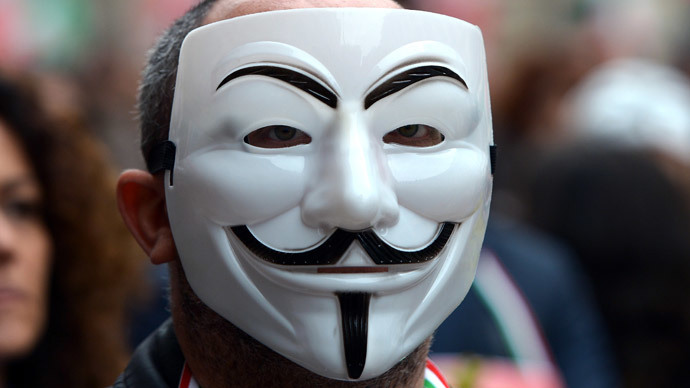 Has the hacktivist group Anonymous been secretly plotting to overthrow the United States government? Federal prosecutors seem to think so, but attorneys for a Texas man on trial for alleged computer crimes say such isn't the case.
The amorphous, internationally-spread group of hackers and activists isn't actually on trial — in this instance, at least — but secret documents filed in a related matter being heard by the US District Court for the Northern District of Texas suggest that the government interprets Anonymous as being anything but harmless.
Last week, attorneys for imprisoned author, activist and journalist Barrett Brown asked the court that they be able to reply to arguments made earlier this month by federal prosecutors in the case against their client — a 32-year-old Dallas, TX man expected to stand trial in May to face several felony counts, including making internet threats, retaliating against a federal official, fraud, identity theft and concealment of evidence. Brown has been in the custody of law enforcement since being arrested in September 2012.
Of argument, his attorneys wrote in the Feb. 21 filing, are statements the prosecution made earlier this month when they replied to a January 31 motion in which the defense asked the court to dismiss one of three indictments against Brown.
The government predictably opposed the defense's request two weeks later on Feb. 14, but — like much of the nearly two-year-old case— that paperwork is not included among the publicly available files hosted on the online, federal PACER court system, which supporters of Brown presume means it was filed under seal. Whatever its contents, though, the prosecution's filing compelled the defense to request permission from the court to respond. Now according to that latest, public document, information about the prosecution's case — as well as their secret interpretation of Anonymous — is widely available.
It's impossible to tell exactly how the government opposed the defense's request in that likely-sealed Valentine's Day response, but attorneys for Brown had argued earlier that the court should dismiss allegations that their client made internet threats and retaliated against a federal officer because they claimed "no reasonable jury could find the alleged statements to constitute a true threat." According to the newest motion, it's now known that the government wrote in response that Brown's "past association with Anonymous is crucial to understanding the significance of his threatening comments and conduct," all but equating the hacktivist group with a streetgang capable of causing immense fear in a public official — in this case, Federal Bureau of Investigation Special Agent-in-Charge Robert Smith, whom Brown berated in a series of internet videos uploaded to YouTube shortly before his September 2012 arrest.
"Robert Smith's life is over. And when I say his life is over I don't say I'm gonna go kill him, but I am gonna ruin his life and look into his fuckin' kids," Brown said in one video cited by the prosecution in previous court documents.
But the government hasn't establish a connection between Anonymous and "any form of violent conduct," the defense fired back last week, nor was Brown ever accused of conspiring with the group to carry out the alleged threats.
"[T]he government alleges no meaningful nexus between an association with Anonymous and any form of violent conduct," the defense argued. "Nor is Mr. Brown charged as a 'member' of 'Anonymous.' Nor does the Indictment allege any conspiracy between Mr. Brown and 'Anonymous,' let alone one to threaten the physical assault of [Smith]. Nor does the government allege that Mr. Brown's affiliation with 'Anonymous' … was in any way violent in nature, or that he conveyed such information to [Smith]."
"As such, the government fails to show a reasonable basis upon which a juror could find that 'Anonymous' was a violent group or partook in violent activities."
Later, the government apparently also said that the defendant's "continued association with…known hackers leaves no doubt that Brown was more than capable of obtaining whatever information he sought."
"The government is aware that they can't succeed in convicting Brown for his speech, so in order to prevent a just dismissal of the charges they are implying his guilt by association," the group Free Barrett Brown responded in a statement published on Wednesday.
In fact, Brown publicly tried to distance himself from Anonymous in recent years, despite previously being relied on by the media as a poster boy of sorts for the movement, largely due to his willingness to discuss the relatively inaccessible group's operations and mindset in the public eye.
"This would be a good time to note, particularly for the benefit of certain journalists, that I am not and never have been the spokesman for Anonymous, nor its 'public face' or, worse, 'self-proclaimed' 'face' or 'spokesperson' or 'leader,'" Brown wrote from prison shortly after his arrest. Prior to then he appeared on RT America and other networks numerous times to discuss a variety of topics, particularly ones involving Anonymous and their publicly-known online operations, and was co-authoring a book on the group at the time he was apprehended.
Now according to what his attorneys have revealed about the prosecution's previously-secret response, the US government considered Anonymous to be something far dissimilar to what Brown brought to the table during those appearances. Quoting from that the prosecution's paperwork, the defense says the government believes Brown and Anonymous "secretly plotted the overthrow of the government."
"This is exactly the type of political hyperbole that the First Amendment was meant to protect," the defense counsel lashed back with. "As such, Mr. Brown's alleged affiliation with 'Anonymous' is entirely unrelated to whether Mr. Brown's statements constituted a threat of physical harm to [Smith]."
Supporters of Brown, such as those involved in the legal-defense fund established to help with his case, quickly condemned the government's new-fangled interpretation of Anonymous.
"This is not just incredibly silly, as the majority of Anonymous are citizens engaged in ordinary, constitutionally-protected political expression, but lays bare the cartoon level of ridiculousness that has been the hallmark of this prosecution," added the support group, which has raised roughly $85,000 for Brown since he was first imprisoned.
According to the group, the prosecution argued during previous hearings that any relationship between Brown and Anonymous was "inadmissible and prejudicial." Today, they group wrote, the government considers it "crucial."
Gregg Housh, an activist who has been associated with Anonymous since 2008, told RT's Andrew Blake that he doesn't think the government's newly unearthed comments about the group he's watched since its infancy "reflect reality."
"Hacktivists and Anonymous specifically are not violent people with violent intent. For the most part they are highly motivated political activists who care a lot about right and wrong," explained Housh, a friend of Brown's.
On their part, the prosecution has introduced evidence which shows Brown's alleged intent to harm Agent Smith — and perhaps an attempt to wrangle self-identifying members of Anonymous into his plan. Tweets posted by Brown before his arrest and cited in the first criminal indictment includes ones where he encouraged followers to learn to shoot, stock up ammo and, in one micromessage, overthrow the US government.
Kids! Overthrow the US government lol https://t.co/I471YNcy

— Barrett Brown (@BarrettBrownLOL) September 6, 2012
That tweet though — likely the impetus for the prosecution's latest claims—should likely be taken with a grain of salt. In it Brown concluded his alleged plea with the internet abbreviation "LOL" and then linked to a music video of 80s rock group Blondie.
Other tweets authored by Brown before his arrest and cited by the prosecution are challenged by the defense earlier this month when they first filed a motion to dismiss. The tweet described in that motion by the defense as "perhaps most vicious of all" should be disregarded, they argued, because it wasn't a threat made by Brown but rather the reiteration of a comment made by a mainstream media pundit.
The comment, the defense wrote, "appears to advocate for the extrajudicial killing of WikiLeaks founder Julian Assange (not the alleged victim [Smith])." Its originator, Fox News commentator Bob Beckel, "to wit, remains unindicted," the defense acknowledged.
Judge Sam. A. Lindsay approved the defense's request to reply to the government's response to the defendant's motion to dismiss on Tuesday this week, and has given Brown's attorneys until March 7 to file their response.
You can share this story on social media: