Would-be Jihadist Chicago teenager tries to blow up bar, arrested in FBI sting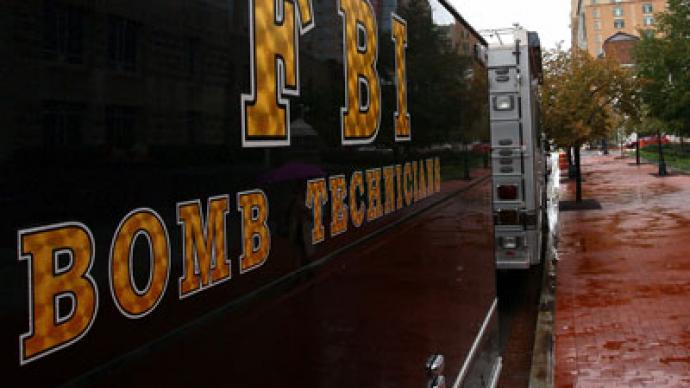 In a dramatic FBI sting, US agents arrested an 18-year-old American who attempted to detonate a fake car bomb outside a popular Chicago bar on Friday night. The teen was arrested immediately after he pushed the button on the dummy explosives.
Suspect Adel Daoud planned the attack for months, telling undercover agents he was interested in "violent Jihad." The son of Egyptian immigrants, Daoud has been charged with one count of attempted use of a weapon of mass destruction and one count of attempt to damage and destroy a building by means of an explosive. "The explosives that Daoud allegedly attempted to detonate posed no threat to the public…They were inert and had been supplied by undercover law enforcement personnel," acting US Attorney Gary Shapiro said Saturday in a statement from the US Attorney's Office in the Northern District of Illinois.Daoud met with undercover agents at 7:15pm on Friday and drove to downtown Chicago, where he reportedly prayed that the explosion would cause many deaths. After reaching Chicago, they switched vehicles to a Jeep containing the fake explosives and parked it outside the bar. After walking about a block, Daoud turned down a deserted alleyway with an undercover agent, stopped, and pressed the trigger. Authorities only arrested him after he attempted to activate the fake bomb.According to an affidavit, Daoud planned the attack for months, and the FBI was alerted to the possible danger through emails he sent in October 2011 "relating to violent jihad and the killing of Americans."While defense lawyers traditionally maintain that arrests in such cases constitute entrapment, Daoud was "offered several opportunities to change his mind and walk away from the supposed attack," the US Attorney's Office statement said. "From late May to mid-June 2012, Daoud confirmed his belief in the propriety of killing Americans in a terrorist attack, and then began seeking online resources regarding how to carry out an attack," the statement read.In October 2011, Daoud sent several individuals a PowerPoint presentation titled 'The Osama Bin Laden I know,' as well as material on Anwar al-Awlaki. Al-Awlaki was the leader of Al-Qaeda's Yemeni branch, and was killed by a US drone strike a month earlier in September 2011.Daoud was contacted online by undercover FBI agents posing as terrorists in May 2012, and exchanged several emails with them expressing his desire to kill Americans on a massive scale.The agents met with Daoud and discussed several means of carrying out the attack, and Daoud provided them with a list of 29 possible targets. In one conversation, Daoud said that "I want to get the most evil place, but I want to get a more populated place." After conducting reconnaissance, Daoud selected the bar as his target.The FBI was involved in a number of foiled terror attempts to in recent years. A number of these cases were highly controversial, with defense lawyers pleading entrapment and arguing that their clients pursued violence not only because the FBI provided them with the means, but also actively encouraged them in their act. An exposé last year by Mother Jones magazine and the Investigative Reporting Program at the University of California-Berkley revealed that the FBI currently employs as many as 15,000 undercover agents, with some making as much as $100,000 per assignment.Such entrapment defenses are rarely upheld in court, as it is difficult to prove that the defendant was not predisposed to commit the crime, and the FBI usually claims to repeatedly offer its targets chances to back out.A preliminary hearing in Daoud's case was scheduled for Monday afternoon at Chicago's Dirksen Courthouse.
You can share this story on social media: