'Burning Bank' artist arrested in LA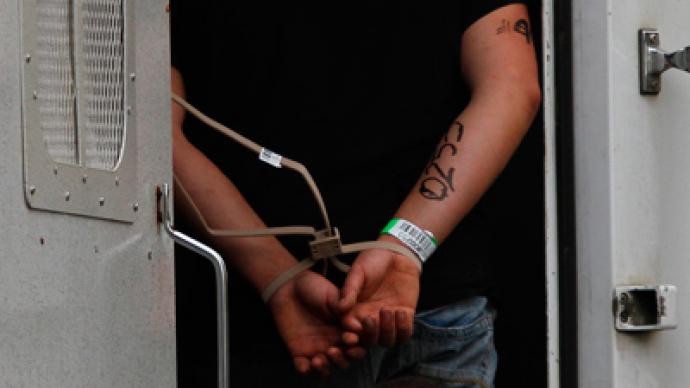 A Los Angeles-based artist that made headlines last year for painting pictures of banks going up in flames has been arrested on misdemeanor vandalism charges after drawing with chalk outside of a Chase branch in downtown LA.
Alex Schaefer was arrested on Monday afternoon outside of a Chase branch in Los Angeles, California after he was caught using sidewalk chalk to write a series of slogans parodying the bank's logo. Schaefer was illustrating his own take on the Chase logo using the words "Crooks," "Crime" and "Chaos" in a similar typeface to describe his own opinions of the bank when he was detained by private security guards. Los Angeles Weekly reports that five LAPD patrol cars were then called in to cuff the artist, who was booked on the charge of misdemeanor vandalism. Thirteen hours later, he was released."It's unfair and ridiculous," Schaefer tells an art blogger for LA Weekly. "If you look at the video on my blog, you can see they came and washed it off in a matter of seconds.""Still," says Schaefer, "I spent more time in jail than John Corzine has and he stole billions," referencing the former New Jersey lawmaker under investigation for allegedly stealing funds from clients of his securities firm.Schaefer himself came under investigation last year over a series of paintings he created. His artwork advertising major banks burning to the ground made headlines across the country and even helped him thousands of dollars in sales. At the time he told RT that accidently becoming the center of a LAPD investigation was "bizarre"  and added that he felt like he was being accused of terrorism for simply making a statement."I'm not a terrorist. I'm not firebombing any banks," he told RT.During this week's arrest, he says that the cops were oblivious to his highly praised paintings, though he does think they can relate on the topic of economic corruption."When I was speaking to the arresting officers we were talking about the economy and they agreed about how bad things are," he tells LA Weekly. "That begs the question: are they cops or Americans first? They will never protest.""I hope people are shocked about the situation and my arrest," he adds. "I hope it creates a wave of publicity and gets people thinking about the situation — it's fucked."