US soldier dodges execution after pleading guilty to murdering 16 Afghans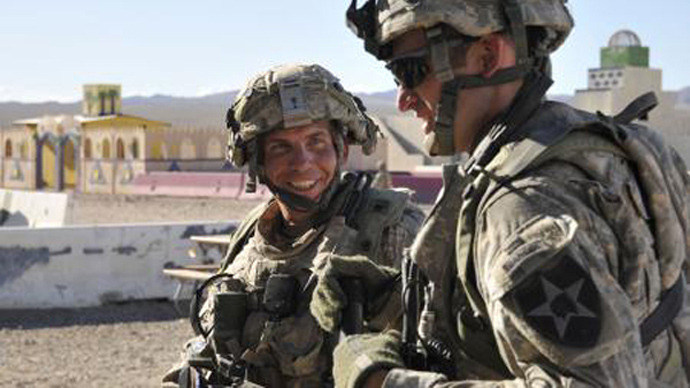 The American soldier charged with the massacre of 16 Afghan civilians a year ago near Kandahar province will avoid the death penalty after a military judge accepted his guilty pleas in court Wednesday.
Staff Sgt. Robert Bales, 39, entered the plea inside of a military courtroom at Joint Base Lewis-McChord in Washington state early Wednesday.

A military judge listened to Bales' firsthand account of what happened during the March 2012 outburst. He described shooting each victim, saying there is "not a good reason in this world" for what he did, AP reported from the scene.
The judge, Col. Jeffery Nance, accepted Bales' pleas, which means that a jury will decide in August on the possibility of parole in the soldier's life sentence.

Bales was brought into custody last year after opening fire on civilians residing within two tiny villages in southern Afghanistan. He slipped away from his post at Camp Belambay in Kandahar on the early morning of March 11 equipped with a 9 mm pistol and an M-4 rifle outfitted with a grenade launcher, then went on a rampage in the village of Alkozai. He returned after to his camp covered in blood, told at another soldier about the attack and then left to kill again, that time attacking civilians in the village of Najiban.
Bales, an Ohio native and father of two, was charged with 16 counts of premeditated murder — one for each life he took.
In an email to USA TODAY this week, defense attorney Emma Scanlan wrote that Bales "is ready to accept responsibility for what he has done." Browne previously told reports that Bales would offer the plea in hopes of avoiding the death penalty. He apparently prepared a 50-page deal that a military judge will have to review before that determination is made.
The AP wrote Wednesday afternoon that Bales pleaded guilty to all 16 counts, but came short of doing such for another charge lobbed against him: impeding an investigation. If the judge accepts his plea, a jury will likely decide later this summer the fate for the soldier — life, or life without the possibility of parole.
According to an AP reporter at Joint Base Lewis-McCord, Col. Jeffrey Nance went over a stipulation of facts signed by Bales, then asked the soldier to confirm whether he understood the four elements that apply to each of the 16 charges.

A press release issued by the Army stated that certain conditions would have to apply for Bales to be subjected to the death penalty, an option unlikely even if his plea is rejected and he's convicted of stricter crimes.
"For capital punishment to be imposed, the court-martial members must unanimously find: the service member is guilty of the eligible crime; at least one aggravating factor exists; and that the aggravating factor must substantially outweigh any extenuating or mitigating circumstances found by the court-martial members," the statement read.
"Obviously, avoiding the death penalty is our number one goal. We've accomplished that, assuming the judge accepts the plea, and we believe he will," Browne told the AP earlier this week.
No members of the US military have been executed as a result of a conviction since 1961, although five currently face that possibility.
Bales was serving his fourth combat deployment with the atrocities occurred last year, and his lawyer told the court previously that he had been drinking alcohol and snorting Valium on the night of the killings. Bales is reported to suffer from post-traumatic stress disorder, and was facing foreclosure on his home shortly before the time of the incident. Browne described the soldier as "crazed" and "broken" last week, but stopped short of labeling him legally insane.