Second baby born with HIV cured, five additional remission cases may exist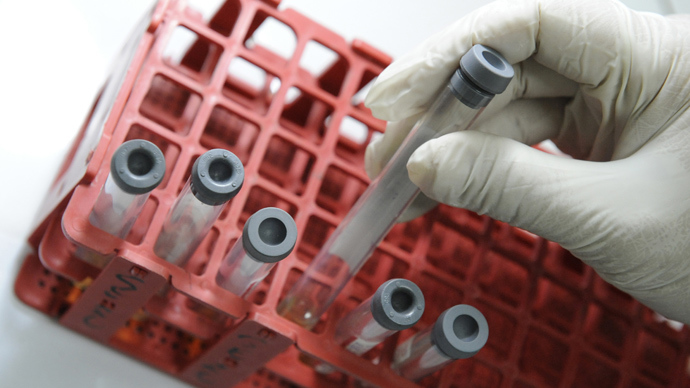 Doctors appear to have cured a nine-month-old baby that was born with the HIV virus, marking the second time that medical professionals may have sent HIV into remission by starting treatment just hours after the child's birth.
Scientists announced Wednesday that the young girl, whose identity has not been released, was born in Long Beach, California with HIV – which can lead to AIDS. That fate was apparently avoided, though, when doctors began administering antiretroviral drugs in the first hours of her life. Medical professionals used multiple drugs in an antiretroviral cocktail that seemed to act as an early inhibitor, according to Dr. Deborah Persaud, a pediatrics specialist.
"The child...has become HIV-negative," Persaud said during a conference at Johns Hopkins School of Medicine, as quoted by Reuters. "Really the only way we can prove that we have accomplished remission in these kinds of cases is by taking them off treatment and that's not without risk. This is a call to action for us to mobilize and be able to learn from these cases."
The earlier case of a Mississippi child was even more shocking. Born just over three years ago, the child was reportedly cured of HIV after undergoing his first month of treatment. Some doubted such a treatment was possible, in part because it was the first time such a remission had happened.
"Last year, when we described the Mississippi baby, the report was received with some skepticism," Persaud said. However this case is more definitive because viral DNA and RNA were discovered in the California baby's blood and spinal fluid, meaning "this baby was definitely infected…and now we are unable to detect replication-competent virus."
Both babies were infected with the disease by their mother. HIV, officially known as the human immunodeficiency virus, became all too well known when it was discovered over 30 years ago. Nearly 40 million people are currently afflicted with the disease throughout the world. It can be spread through contact with blood, semen, vaginal fluid, or breast milk of a person already infected with HIV.
Doctors who examined the second child, known by some as the "Los Angeles baby," admitted they are unsure if the infant is completely cured or whether the disease has gone into remission. Dr. Yvonne Bryson, an infectious disease specialist at Mattel Children's Hospital UCLA who helped treat the child, told the Los Angeles Times that the baby is still undergoing treatment.
"This is uncharted territory," she said. "The only way we know that we really have remission is to stop therapy."
One leading researcher said five similar cases could be present in Canada and another three in South Africa.
Doctors said they hope to learn more after a clinical trial in which 50 infected babies born over the next three months are put on antiretroviral drugs within 48 hours of birth. Neither of the aforementioned babies will participate in the clinical trial.
Treatment on the baby born in Mississippi began 30 hours after its birth and, within a month, there was no sign of the virus. Medical professionals recommended that the family continue administering the anti-HIV drugs but, even though they stopped following that advice after 18 months, the child remains HIV-negative.
Still, while there is certainly cause for optimism, Dr. Audra Deveikis, a pediatric infectious disease specialist at Miller Children's Hospital in Long Beach, warned that more work remains to be completed.
"The decision of when to stop therapy is not something we're going to take lightly," she told the Times. "We're going to continue for at least two years, or longer, depending on the information we get from these future studies."
You can share this story on social media: