Arizona Gov Brewer announces veto of controversial 'religious freedom' bill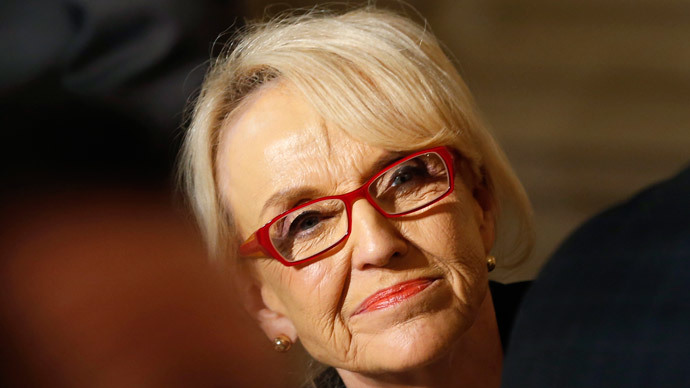 Arizona governor Jan Brewer held a press conference on Wednesday night to announce she had vetoed a controversial bill which would have permitted businesses to refuse service based on an owner's religious beliefs.
Brewer, a Republican known nationally for her conservative stance on immigration and abortion rights, said she would not sign the law, SB 1062, because of vague language that could have unintended consequences. The bill had attracted national attention because of the notion that, by supposedly protecting religious freedom, it would authorize business owners to refuse service to customers to gay, lesbian, and transgender individuals.
"I call them like I see them, despite the cheers and boos from the crowd," Brewer announced in a media address. "I have vetoed Senate Bill 1062 moments ago."
The governor's office tweeted an image of Brewer signing the bill moments after she made the announcement.
Moments ago, I vetoed #SB1062. pic.twitter.com/gdQn0dG2vB

— Jan Brewer (@GovBrewer) February 27, 2014
The bill was first introduced by State Senator Steve Yarbrough in response to a New Mexico state Supreme Court ruling that permitted a gay couple to sue a photographer who refused to take pictures at their wedding. Yarbrough has defended the bill even as it has come under harsh scrutiny, saying that it is "about preventing discrimination against people who are clearly living out their faith."
"The heart of this bill would allow for discrimination versus gays and lesbians," said state senator Steve Gallardo, a Democrat.
"You can't argue the fact that bill will invite discrimination. That's the point of this bill."
It was passed by the state House of Representatives and overwhelmingly approved by the Republican-controlled state Senate. SB 1062 is the first bill of its kind to come so close to becoming law, although similar legislation is also pending in Idaho, Oklahoma, Mississippi, South Dakota, and Tennessee.
Brewer, who vetoed a similar bill in 2013, spent much of the day Wednesday meeting with lawmakers on both sides of the issue. Her office previously told the Arizona Republic that more than 20,000 people have sent emails, letters, and phone calls from not only Arizonans, but from people throughout the US trying to influence her decision.
Meanwhile, in Ohio, legislators who had introduced similar legislation modeled after Arizona's withdrew their bill.
Co-sponsors Rep. Bill Patmon (D-Cleveland) and Rep. Tim Derickson (R-Oxford) agreed to withdraw HB 376 from consideration.
"We feel that it is in the best interest of Ohioans that there be no further consideration of this legislation," Derickson said in a statement.
You can share this story on social media: