Ugandan president to sign anti-gay law threatening life in prison
Published time: 16 Feb, 2014 00:12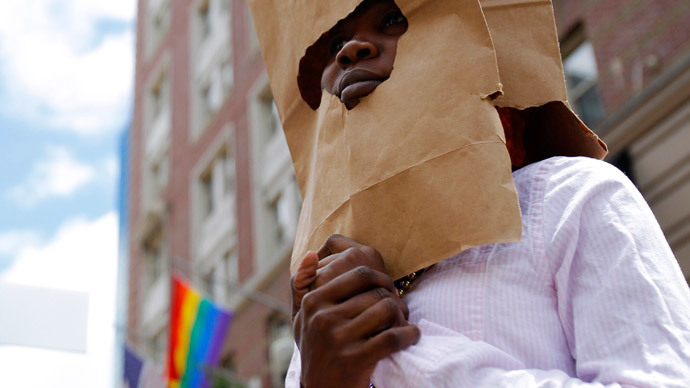 Uganda's president Yoweri Museveni is going to sign the bill that may land homosexuals in prison for life, officials have said after the leader's meeting with the ruling party lawmakers.
The president's spokesman Ofwono Opondo wrote on Twitter that the president's decision was influenced by a report by certain "medial experts."
Pres Museveni has told NRM MPs he will assent the Anti-Homosexuality Bill into law

— Ofwono Opondo (@OfwonoOpondo) February 14, 2014
This comes after 14 medical experts presented a report that homosexuality is not genetic but a social behaviour

— Ofwono Opondo (@OfwonoOpondo) February 14, 2014
The spokesman added that the president "welcomed the development as a measure to protect Ugandans from social deviants."

After the meeting of the National Resistance Movement (NRM) ruling partyon Friday, where the findings were presented, a spokesperson for the party conference Evelyn Anite told reporters that the president will "sign the bill."

Anite added that the scientists who prepared the report were from the country's Health Ministry.

"(Museveni) declared that he would sign the bill since the question of whether one can be born a homosexual or not had been answered," Anite said in a statement as cited by Reuters.

A ministerial committee examining the issue formally stated that homosexuality is "merely an abnormal behavior which may be learned through experiences in life".

Musevini indicated in January that he could shelve the bill, believing that homosexuality is an issue requiring the "rehabilitation" of the individual, but calling it too severe. However, after the bill's passing in parliament on December 20, he has increasingly been pushed by his party to sign the legislation.

The new law will see life imprisonment become the norm for what the government believes to be especially aggravated acts of homosexuality.

This term implies sexual intercourse in which one of the partners is infected with HIV, or ones involving disabled persons or minors, as well as "repeated sexual offences" between consenting aduts. As far as officiating at gay weddings is concerned, the new bill proposes seven years' jail time for the priest.

But even the life sentence is a far cry from what the law's proponents originally suggested – the death penalty for homosexual acts.

The news has prompted an outcry from human right advocates. Watchdog group Human Rights First expressed "deep concern" over news that the bill will be signed into law, saying it "will have severely adverse consequences for the human rights of lesbian, gay, bisexual, and transgender (LGBT) people as well as other Ugandans."

Varying degrees of punishment for homosexuality exist in at least 37 African countries.

For the majority of countries on the continent, homosexuality is not a question of rights, but of culture and values. For instance, so much as recognizing that a same-sex relationship even exists is outlawed in the majority of countries, excluding only Senegal, Ethiopia and Saint Helena (UK territory) – which appear to have no opinion on the matter.