Black supremacist calling for mass murder of whites still employed by Homeland Security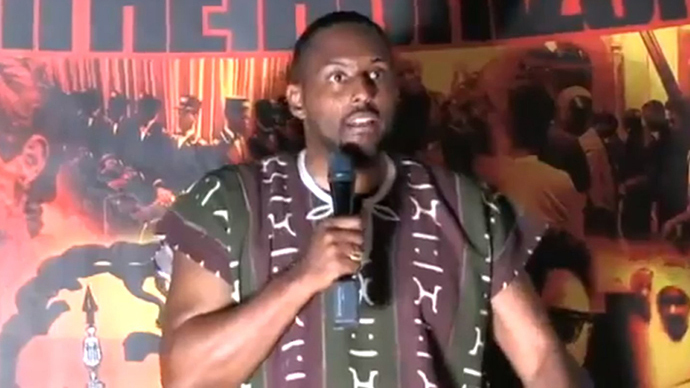 A Department of Homeland Security employee who earns more than $115,000 annually from the federal government remains employed nearly four months after he was revealed to be the mastermind behind a hateful black-nationalist website.
The DHS placed Ayo Kimathi on administrative leave back in August after the Southern Poverty Law Center linked the federal employee of four years to War on the Horizon, a website that claims to be "preparing Black people worldwide for an unavoidable, inevitable clash with the white race." Now according to a report published on Tuesday this week by Alex Seitz-Wald for the National Journal, the DHS has done little to officially relieve Kimathi of his duties even after being explicitly tied to the website and identified as the administrator who uses the pseudonym "the Irritated Genie."
"He's a gay-bashing, revenge-seeking black nationalist who advocates on his website – War on the Horizon – the mass murder of whites and the 'ethnic cleansing' of 'black-skinned Uncle Tom race traitors,'" Don Terry wrote in August for the SPLC, a civil rights firm that attempts to identify members of hate groups. Then weeks later, Charles Clark at Government Executive reported that DHS officials had been receiving complaints for around two years against Kimathi, a small business specialist working in procurement for the DHS sister-agency, Immigrations and Customs Enforcement.
Despite these reports, however, Seitz-Wald wrote that Kimathi is indeed still on Uncle Sam's book, and a DHS spokesperson confirmed that his status has not changed four months after being placed on administrative leave with pay pending review.
"Homeland Security has condemned Kimathi's political views and said his employment is under review, but as of Monday afternoon, he remains employed," Seitz-Wald wrote the next day.
According to The Wire, ICE spokesperson Gillian Christensen confirmed all the way back in August that Kimathi was on administrative leave, and that her agency "does not condone any type of hateful rhetoric or advocacy of violence of any kind against anyone."
"Every ICE employee is held to the highest standard of professional and ethical conduct. Accusations of misconduct are investigated thoroughly and if substantiated, appropriate action is taken," Christensen said.
But even after words as harsh as those, Kimathi continues to be a legitimate employee of the government.
Josh Glasstetter, a campaign director for the SPLC, told Seitz-Wald that keeping Kimathi on the payroll was not acceptable.
"DHS should be tracking Kimathi, not employing him," he said. "This isn't a mundane human resources matter or a tricky First Amendment question. DHS should have investigated and fired Kimathi months, or even years, ago."
Instead, the only action to occur with regards to the case seems to be coming from Kimathi. Only hours the site's leader was placed on leave, the Facebook account for War on the Horizon announced, "the Irritated Genie is under attack from the zionist smallhats, the Uncle Tom koons, the white-sex offenders, the haters, the conspiracy theorists."
When the National Journal contacted the WoH website this week, they received a response which read in part: "we will not be making any statements on this unfortunate situation."