​Atlanta's 'zombie apocalypse'? Rare snowfall paralyzes region, strands many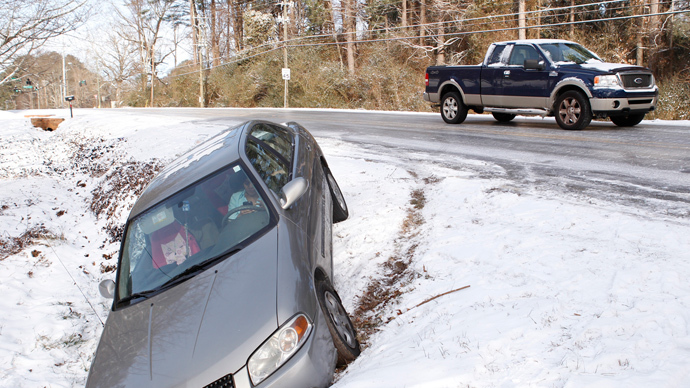 A freak snowstorm in the southeastern US on Tuesday continued to paralyze much of the region on Wednesday. The weather's impact on the area was no more stark than in Atlanta, where abandoned vehicles on highways recalled scenes from a zombie apocalypse.
Tuesday's 2.6 inches of snowfall in Atlanta, the largest city in the region, crippled interstates and frustrated drivers, stranding hundreds of commuters in their vehicles, retail outlets, schools and workplaces overnight.
Despite the confused and at times chaotic response in the city, only one death - as a result of a car accident - has been confirmed in the Atlanta area.
Nonetheless, as Twitter users were quick to spot, the picture of civilizational collapse was instantly recognizable from the hit show The Walking Dead.
Fittingly, the zombie-centered cable horror series is both set and filmed in Georgia.
Hmm Walking Dead photo on top Atlanta interstate on the bottom after 2 inches of snow. pic.twitter.com/9Akf2Yju6o

— Lucas Reese (@Indyweather24) January 29, 2014
These photos of Atlanta's #Winter storm are pretty incredible. #KSDKhttp://t.co/hVgEz39MwMpic.twitter.com/BINO4JHGWU

— KSDK NewsChannel 5 (@ksdknews) January 29, 2014
Law enforcement told the Atlanta Journal-Constitution that there had been a number of minor injuries as a result of traffic accidents and falls, but there were no serious injuries and no "exposure injuries due to motorists being stranded for long periods of time."
The DeKalb County 911 Center said they have received an average of around 400 to 500 calls an hour since the beginning of the storm. Road crews continued to chip away at ice and snow accumulation, but transportation officials said a return to normalcy may not occur until Thursday.
Abandoned vehicles litter 166 in Atlanta as of 8:53 AM. pic.twitter.com/UvSxQ2ZfZ6

— Anthony Sagliani (@anthonywx) January 29, 2014
Georgia Gov. Nathan Deal and Atlanta Mayor Kasim Reed downplayed the blame directed at the state and city's response to the uncharacteristic snowfall in Atlanta. Deal pointed to the National Weather Service's forecast before the storm hit as reason his administration does not deserve sole responsibility for the state's muddled response.
Southern Discomfort: Atlanta frozen solid. Thousands stranded- sleeping in stores. http://t.co/LGoHvk6QD6pic.twitter.com/fHSx0q8Ey6

— Jonathan Betz (@jebetz) January 29, 2014
Deal claimed the National Weather Service "had continually had modeling showing Atlanta would not be the primary area (of the storm). It would be south of Atlanta."
Marshall Shepherd, a meteorologist with the University of Georgia and president of the American Meteorological Society, said weather forecasters were not to blame for the state and local government's faults.
"The buses had a tough time getting kids home, but meteorologists should not be thrown under the bus," he said.
Many snow-affected states, including Georgia, declared states of emergency. Gov. Deal sent the state's National Guard to assist stranded motorists on major freeways, USA Today reported.
USA Today reports at least nine people died in car accidents across the South. Four people were killed early Tuesday in Mississippi after a faulty space heater set a mobile home ablaze.
You can share this story on social media: