Arkansas House passes toughest abortion law in US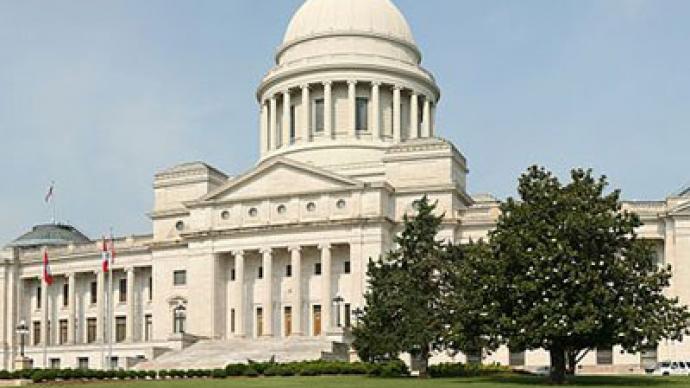 Under new legislation voted upon by the Arkansas House, victims of rape and incest will no longer be able to procure abortions after 20 weeks of pregnancy as the Republican-dominated legislature tries to crack down on abortions.
Representatives on Monday voted 75-20 to approve the measure, which would also block insurers from paying for abortions if they participate in the state-sponsored health insurance exchange under the Affordable Care Act. If the law goes into effect, insurers who violate it would face a class D felony prosecution, which can result in up to six years imprisonment and a $10,000 fine.The abortion ban would apply to any pregnant woman who has carried a fetus for 20 weeks or more and only exempt potential mothers who are at serious risk of substantial and irreversible physical impairment or death from childbirth.The bill comes after the Arkansas Senate last week voted to approve a more restrictive ban, which bans abortions when a fetal heartbeat is detected and could prohibit the procedure as early as five weeks. The proposed bill would be the most restrictive abortion ban in the US.The Arkansas legislature's unwavering pursuit of tighter abortion laws has angered pro-choice lobbyists and members of Planned Parenthood."Extreme groups pushing these bills want to eliminate abortion," Planned Parenthood lobbyist Murry Newbern told Reuters. "The bill has nothing to do with the health and safety of a woman. It's an attempt to chip away access to abortion."The initiative may also be an unnecessary push against a fictional problem: in Arkansas, only two abortions were performed after 20 weeks of pregnancy in 2011, which Newbern says were both likely due to pregnancy complications.Rep. Greg Leding, the top Democrat in the Arkansas House, said the new measure also forces pregnant women to give birth to fetuses that are crippled or permanently sick or injured, thereby being "incompatible with life". He also told AP that the measure is unfair to victims of rape or incest, some of which might themselves still be children."The case made for that exclusion is that a woman should have been able to make that decision early in her pregnancy," Leding said. "But what if that woman is a 12-year-old girl and she's raped by a family member or friend and she's too afraid to speak or at that young age is simply unaware that she's pregnant?"Rep. Butch Wilkins, the author of the bill, argued that the measure also prevents public money from going towards abortions. But this is already banned by state and federal law. With only two abortions occurring after 20 weeks of pregnancy in a one-year period in Arkansas and existing legislation already banning public funding of the procedure, the bill seems to hardly accomplish much and simply places restrictions on rape and incest victims or women who might be carrying a permanently damaged fetus.As for the bill banning abortions after a detected fetal heartbeat, Democratic Gov. Mike Beebe believes it may be unconstitutional."Obviously, we don't want to pass unconstitutional laws and end up in court costing taxpayers tons of money," he told Reuters, without explaining why he believes the bill might be unconstitutional. But Beebe said the two bills have a lot of support in the legislature and have a good chance of passing.But if Arkansas' pro-life legislators win in another fight against abortion, pro-choice advocates have already pledged they will sue the state."They're both unconstitutional, and I think they're both cruel to woman and families," said Bettina Brownstein, an attorney for the American Civil Liberties Union of Arkansas. Opponents claim that the "heartbeat" ban in particular is questionable, since it contradicts the US Supreme Court's 1973 Roe v. Wade, which legalized abortion up until viability – usually at 22 to 24 weeks, as opposed to the five weeks at which a heartbeat can often be detected."I understand the governor has some constitutional concerns and he's analyzing it. I am too," said Republican House Speaker Davy Carter.Only seven US states currently ban abortion after the 20-week mark, and similar laws already approved in Arizona and Georgia are facing legal challenges because of their passage. With Arkansas' proposed "heartbeat" law being the most restrictive in the US, it too could soon face its own flurry of legal problems if it decides to pass the measures.
You can share this story on social media: