Apple and Tesla decline to comment on merger rumors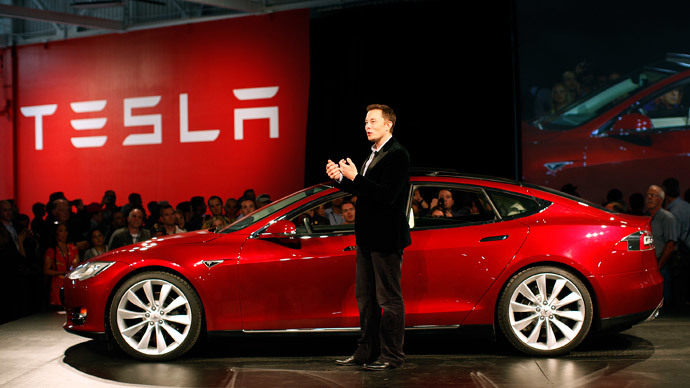 A meeting last year between top Apple brass and Tesla CEO Elon Musk has sparked speculation that the hugely successful electronics maker is interested in purchasing the forward-thinking electric car company.
According to the San Francisco Chronicle, the man in charge of mergers and acquisitions at Apple, Adrian Perica, met with Elon Musk about one year ago. Details of the meeting are unknown, but citing an unnamed source, the newspaper suggested the secret rendezvous – which likely involved Apple CEO Tim Cook – meant the iPhone maker was looking to deal.
Interestingly, a few months after the meeting occurred, financial analyst Adnaan Ahmad published an open letter to Cook urging the company to purchase Tesla.
"The auto industry is going through a technological discontinuity in its shift to hybrid and electric vehicles," Ahmad's letter reads. "This is still in its very early innings. Apple needs know-how (technology, platform strategy and dealer network) in this space and hence I propose that you should buy Tesla."
"I know this is radical and potentially 'transformative' but this would radically alter Apple's growth profile. In Elon Musk, you could strike up a partnership and obtain a new iconic partner to lead Apple's innovation drive."
When asked about the rumors, both Apple and Tesla representatives refused to comment on the possible deal.
There's no evidence to suggest a purchase was actually discussed between the businessmen last year – Apple typically avoids large acquisitions despite its immense cash reserves, and Tesla itself has access to plenty of funds on its own – but the possibility has generated intense interest from analysts who view Apple's current path as unsustainable.
While iPhones and iPads continue to be enormously popular, mobile competition from the likes of Google and Samsung has steadily become more formidable, and Apple's ability to sustain large profit margins on its products has been cast under suspicion. The company has also yet to introduce a breakthrough new product since the passing of founder Steve Jobs, leaving some to wonder if Apple is treading water.
"People are questioning Cook's status as a leader of an innovative company. Maybe he's just a great operator," Josh Stewart, portfolio manager at the Wasatch World Innovators Fund, told USA Today in late 2013.
Purchasing Tesla would immediately give Apple a foothold into an automotive industry that some believe is ripe for disruption, but analyst Andrea James of Dougherty & Co. investment bank believes a "partnership" between the two is a far more likely outcome. With the sales of the Model S electric sedan on the rise, Tesla's position is stable, at least for the moment.
Musk himself seemingly denied acquisition rumors last June when he tweeted, "Forgot to say one thing at Tesla annual shareholders meeting: just as my money was the first in, it will be the last out."
According to Business Insider, its possible that Tesla could cooperate with Apple to incorporate the company's technology into its future vehicles – features such as touch screens, the Siri virtual assistant, and more.
Meanwhile, the Apple-focused website 9to5Mac noted that Tesla is gearing up to unveil a factory that will more than double the worldwide production of lithium-ion batteries. Considering the number of Apple products employing these batteries, it's possible the tech giant wants to invest in or be a part of that effort in some way.
As noted by the Chronicle, Apple is also looking into other possibilities when it comes to expanding its portfolio. In addition to bringing wearable technology such as smartwatches and televisions to the market, the company is exploring the development of heart-related medical devices, such as software and sensors that could predict heart attacks before they occur.
"Apple must increasingly rely on new products to reignite growth beyond the vision" of Steve Jobs, said Edward Jones Investments analyst Bill Kreher to the newspaper. "They need the next big thing."
You can share this story on social media: