AP chief: Sources stopped speaking to us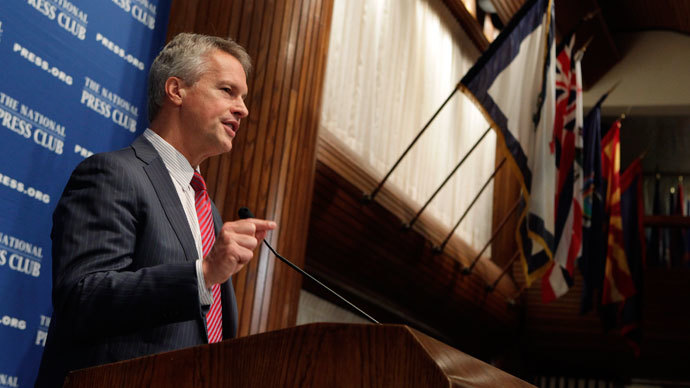 As a result of the Justice Department's seizure of Associated Press phone records, many of the news agency's sources now refuse to talk, out of fear that the government will find out.
AP president and CEO Gary Pruitt on Wednesday condemned the DOJ for acting as a "judge, jury and executioner" by seizing AP phone records and refusing to give the news agency notice of the subpoena.
The government's actions have caused anonymous sources to retreat in silence, afraid that they could become a target of a government leak investigation.
"Some of our longtime trusted sources have become nervous and anxious about talking with us, even on stories that aren't about national security." Pruitt said in a speech at the National Press Club. "And in some cases, government employees we once checked in with regularly will no longer speak to us by phone, and some are reluctant to meet in person."
The AP chief called the effect of the DOJ investigation "chilling", and said many news agencies are now losing sources that they have long relied on.
"Journalists from other news organizations have personally told me that it has intimidated both official and nonofficial sources from speaking to the as well," Pruitt said, noting that this should alarm "everyone in this country."
Pruitt said the AP is planning to obtain encryption and security protections for their reporters and sources, in order to keep both hackers and the government from obtaining their communications records. The news agency is also examining DOJ guidelines, and hopes that the department will recognize that it cannot "prosecute any journalist for doing his or her job," Pruitt said. 
Citing a specific example on the effect of the DOJ's seizure of phone records, Pruitt said AP journalists have been unable to get a law enforcement official to confirm a detail that had already been reported elsewhere.
"Now, the government may love this. I suspect they do," Pruitt said, referencing the intimidation of journalists' sources. "But beware the government that loves secrecy too much."
On May 13, AP announced that telephone records for 20 of their reporters had been seized by the Justice Department during a two-month period in 2012, which Pruitt called a "massive and unprecedented intrusion". On May 17, the Washington Post reported that the DOJ had also tracked the communications of Fox News reporter James Rosen, calling him a "criminal conspirator" to obtain the warrants to do so. The Obama administration has come under immense scrutiny for unconstitutionally spying on journalists and intimidating the freedom of the press.
In his most recent speech, the AP chief emphasized that the US Constitution guarantees this freedom, and that the DOJ's actions "comfort authoritarian regimes that want to suppress their own news media."
You can share this story on social media: