Another 'Russian doll' for Mel Gibson?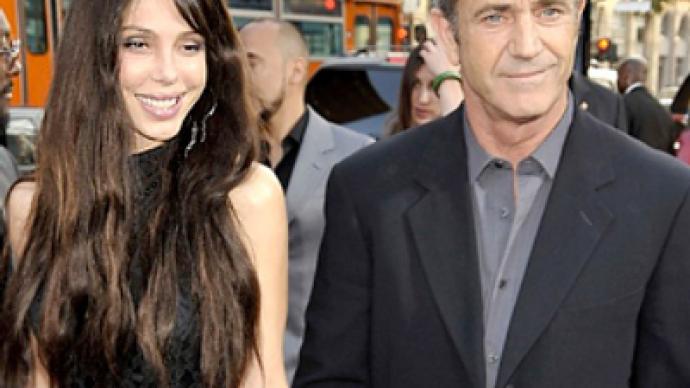 Since Mel Gibson's wife Robyn has filed for divorce, his life has turned into a soap opera. In addition, recent reports claiming that the 53-year-old maverick is seeing a Russian singer have confused even the media.
Three things have been clear from the very beginning: her name is Oksana; she's a singer; and, yes, she's Russian. The rest is all rumours.
Pictures of Mel and Oksana have appeared in tabloids around the globe, but shed no light on which Oksana exactly Mel is with.
There are tens of thousands of Oksanas around the world, and she's said to be one of the artists on Mel's recording label Icon.
Tabloids reported that they met on the set of the thriller The Edge of Darkness where Gibson plays a detective investigating the death of his daughter. Although both have denied having an affair, Mel's unfaithfulness was exposed in 2008 when the couple was snapped coming out of Gibson's trailer together.
In an interview with The Sun, 24-year-old pop singer Oksana Pochepa claimed to be 'Mel's Russian doll', notorious for ending his marriage of 28 years.
However, when everyone already thought that the mystery was finally solved UK newspaper the Daily Mail published pictures from the Los Angeles premiere of X-Men Origins: Wolverine, which Mel attended with a much older Oksana.
The brunette Oksana Grigorieva is 39. The singer from Saransk, the capital of the Republic of Mordovia, is the ex-wife of Timothy Dalton. Grigorieva has been previously mentioned in the Komsomolskaya Pravda reports as one of the possible reasons for Gibson's divorce.
An unidentified Oksana and the Braveheart star were allegedly photographed on the beach in Costa Rica near Mel's home. Gibson's wife reportedly filed for divorce after she saw pictures of her husband snapped on the beach with a brunette who was first thought by tabloids to be Russian musician Oksana Kolesnikova. However, according to The Sun, classical pianist Oksana denied her involvement saying she is "very upset and has no idea how this mistake has been made."
Funny enough, Grigorieva is also said to be signed to Mel's recording label Icon. She has a 12-year-old son from the former James Bond star, Dalton.
According to Komsomolskaya Pravda, Oksana Grigorievas' story is a Cinderella story. A professional pianist, after graduating from the conservatory in her native Saransk, Oksana left for England. She was an au-pair, gave piano-lessons and free concerts in churches. Later she found a job as a waitress in a café in central London where she was spotted by Prince Charles' cousin, the official photographer of the Royal Family. Since then, the pretty brunette has received a number of offers from fashion magazines to work as a model.
According to the Daily Mail, Oksana lives in a house in Sherman Oaks, California, which is linked to Mel's production company.
Hopefully, Mad Max will finally tell the world which Oksana is his Russian doll.
You can share this story on social media: