Anonymous hacks school board in retaliation for spying on students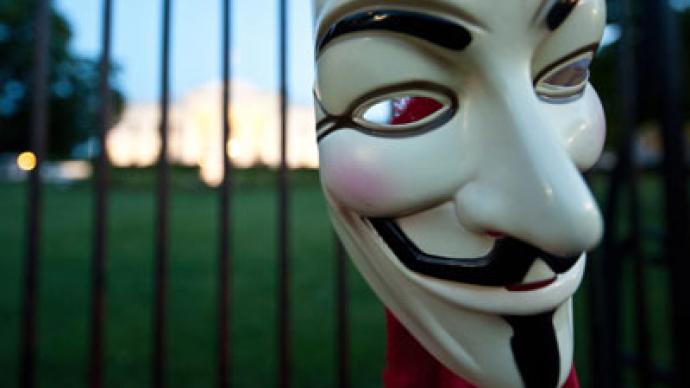 Hackers say they are responsible for taking down the website of a Texas school district in retaliation for a mandatory surveillance program students are being told to comply with.
The website for San Antonio's Northside Independent School District was unavailable at times throughout the weekend and into Monday after hacktivists claiming to be involved with the Anonymous movement waged an attack to draw attention to a controversial new program that requires students to be monitored with tiny Radio Frequency Identification ("RFID") chips.Through the Twitter account @RemainSilentz, one self-described participant in Anonymous confirmed that NISD.net was taken offline late Friday."DOWN AND OUT – Boom, track my ass like you track children you pervs," the user wrote.Two schools in NISD — John Jay High School and Anson Jones Middle School — began asking students earlier this year to carry RFID-equipped identification cards so that educators can monitor their location on school grounds. The school district says tracking students allows for more accurate attendance figures, and therefore better funding. It hasn't been welcomed with open arms by students, however, and last week a judge had to intervene and issue a temporary restraining order to prevent the principle from Jay High from expelling sophomore Andrea Hernandez for refusing to wear a badge after the school said participation was mandatory."We are conditioning kids to live in a surveillance state," John W. Whitehead, president of The Rutherford Institute, told RT on Friday. Whitehead has been instrumental in helping Hernandez fight to be free from being monitored, and celebrated the issuing of a restraining order. And as more people become aware of cases like hers, he says he hopes there is a chance at holding onto our right to privacy."There are going to be people who are going to want to opt out, and we want to protect those people who don't want to be part of a system that they feel violates their human dignity and their constitutional rights," he says.A hearing is scheduled in the coming days to consider a preliminary injunction that will prohibit NISD from making the tracking program mandatory any further, but meanwhile Anonymous has taken matters into their own hands."I sincerely hope you have noticed that I have took down your website for a reason, and that reason is stripping away the privacy of students in your school. What was going through your mind when you had this idea?" an Anon using the alias tr1xxyAnon wrote in a statement circulated over the weekend. After a judge agreed to file an order blocking the expulsion of Hernandez last week, Whitehead wrote, "The court's willingness to grant a temporary restraining order is a good first step, but there is still a long way to go—not just in this case, but dealing with the mindset, in general, that everyone needs to be monitored and controlled."Although only two schools in Texas ask students to use "SmartID" cards at the moment, the success of the program at John Jay and Anson Jones will determine of other facilities in NSID will soon make the badges mandatory.