Exonerated Black Panther dies hours after serving 41 years in jail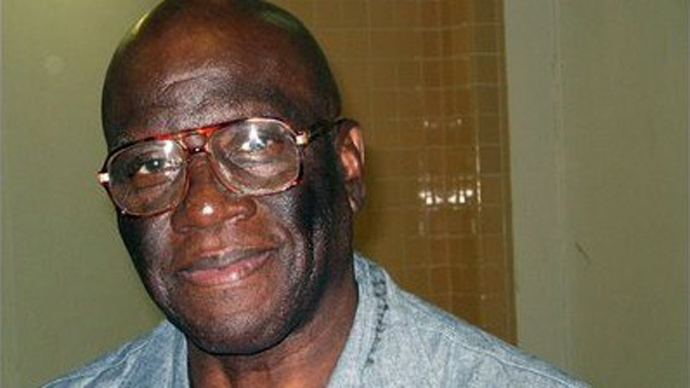 Herman Wallace's 41 years in solitary confinement came to an end last week when a federal judge overturned a decades-old murder conviction on Tuesday. Wallace, 71, died hours later on Friday morning after losing a fight with liver cancer.
Wallace was already serving time for armed robbery when he and two other prisoners at Louisiana State Penitentiary, also known as Angola Prison, were accused of murdering a guard in 1972.
The "Angola 3"— Albert Woodfox, Robert King and Wallace — maintained their innocence for the last several decades. Woodfox and Wallace have insisted that they were implicated solely for their involvement in a prison chapter of the Black Panthers. King's conviction was overturned and he was released in 2001, and Woodfox's case is currently pending before the Fifth US Circuit Court of Appeals.
On Tuesday, US District Chief Judge Brian Jackson in Baton Rouge overturned Wallace's murder conviction and allowed him to be released hours later.
The murder conviction, Judge Jackson said, "violated the Fourteenth Amendment's guarantee of 'the equal protection of the laws'" because the grand jury that indicted Wallace didn't have any women, "thereby rendering his conviction and resulting sentence unconstitutional."
Wallace spent nearly 42 years in solitary confinement, which according to his legal team is among the lengthiest of such stints in US history. A Louisiana grand jury re-indicted Wallace on his death bed on Thursday, though he passed away before he could be brought back to trial.
"It is Mr. Wallace's hope that this litigation will help ensure that others, including his lifelong friend and fellow Angola 3 member, Albert Woodfox, do not continue to suffer such cruel and unusual confinement even after Mr. Wallace is gone," his attorneys wrote this week.
In solitary, the Angola 3 reportedly spent around 23 hours a day in a cell that measured only two-by-three meters.
Less than three full days after being released from confinement, Wallace died at a friend's home surrounded by loved ones early Friday. He had been receiving care for terminal, advanced-stage liver cancer, but was told he had only two months to live after treatment stopped on August 31.
According to friends of Wallace, his last words early on Friday were "I am free. I am free."
"He completed that mission," longtime friend Parnell Herbert told the Times Picayune. "And he was able to see himself a free man. He passed away peacefully in his sleep."
Notwithstanding this, supporters of Wallace say they will press on to ensure freedom for Woodfox and reform for the American prison system.
"Nothing can undo the authorities' shocking treatment of Wallace, which led more than 200,000 people to act on his behalf," Amnesty International USA Executive Director Steven Hawkins said on Friday, referring to a petition that asked for Wallace's release. "The state of Louisiana must now prevent further inhuman treatment by removing Wallace's co-defendant Albert Woodfox from solitary confinement."
"This was never just about Herman or just about Albert," Ashley Wennerstrom, a friend, told the Times-Picayune. "This is about a much larger movement to make the criminal justice system actually just."
On Monday, the United National special rapporteur on torture urged authorities to release Woodfox, the last imprisoned Angola 3 member, and said his confinement clearly amounts to torture and it should be lifted immediately."
A statement released by the UN's Juan Mendez said the Angola 3's cases "clearly show that the use of solitary confinement in the US penitentiary system goes far beyond what is acceptable under international human rights law."
You can share this story on social media: