Decision to reinstate officer who killed 13-year-old carrying toy gun ignites protests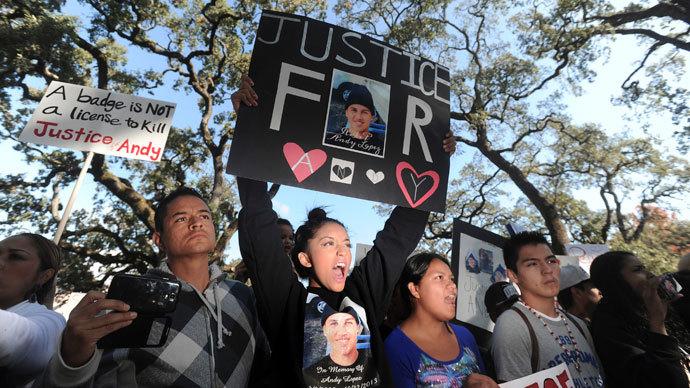 California protesters upset by the news that the police officer who fatally shot a young teen will be reinstated have broken windows and disrupted city hall in a demonstration against what they perceive as police brutality followed by civic injustice.
Sonoma County Deputy Erick Gelhaus returned to work in Santa Rosa on Monday, almost seven weeks after he shot and killed 13-year-old Andy Lopez only to find that the gun Lopez carried was a toy. Community members adorned the site of Lopez's death with memorial flowers and have demonstrated against the police department intermittently since the tragedy made international headlines.
Gelhaus' return this week comes as the community seeks justice for Lopez's death. The 24-year veteran of the force has also served time in Iraq and has worked as a police weapons instructor. Some critics have accused him of opening fire too quickly and have demanded a police oversight board in response to the incident.
The Sonoma Sherriff's Department has maintained that he will remain at a desk job until the results of a criminal investigation are determined, but the events of the past few days have indicated that a sizable part of the population is seeking quicker answers.
The Santa Rosa City Council was forced to pause its meeting Tuesday when protesters descended on city hall just as lawmakers were honoring a retiring police chief. One of the demonstrators, Ramon Cairo, was arrested on suspicion of assaulting an officer with a sign as the group tried to force its way into the chambers. One source told the Sonoma Press Democrat that Cairo did not act aggressively toward police.
Other recesses became necessary in city hall when speakers refused to return the microphone when their allotted time had finished.
"There's no issue in this county that rises to a higher need to be addressed than the death of Andy Lopez," protester Jonathan Melrod said during a County Board of Supervisors meeting. "You can cut my mic off, you can have the sheriffs pull me out of here – that's irrelevant. We want to know why Gelhaus was returned to work!"
Assistant Sheriff Lorenzo Duenas answered that very question Tuesday, saying that Gelhaus was allowed to return to duty because he had not violated any department policies when he shot Lopez on October 22. The disgraced deputy has reportedly passed a mental health test and could return to patrol duty if he is cleared by county prosecutors of any wrongdoing in the criminal investigation.
"In good conscience, we can't just let him sit there," Duenas said. "Our job is to get him back to work."
Gelhaus told police investigators that he only opened fire on Lopez when the boy turned toward the patrol car and appeared to aim the firearm –which was in fact an Air Soft gun modeled to resemble an AK-47 – at police.
One protester said Tuesday that the only penalty Gelhaus had received was "two month's paid vacation and a desk job."
At least one person came forward after Lopez was shot to report that Gelhaus had pulled him over, stating that the officer raised his police sidearm and started screaming when the man asked if he should move his vehicle to a safer location.
One motivating factor behind his return could be Gelhaus' involvement in an unrelated trial. The police department has received two subpoenas calling on Gelhaus to testify, only to reply on Monday that the deputy would be available within 60 days.
"This is very, very, very bad news," Michael Rothenberg, a member of the Andy Lopez Organizing Group, told the Press Democrat of Gelhaus' reinstatement. "A large part of Sonoma County thinks of Gelhaus as a murderer. They think he's dangerous. And we've seen through investigation that he's had problems out on the street."
Gelhaus' attorney told NBC Bay Area that he is upset that Lopez was killed – even more so because he was only preparing to enter high school.
"It's been very difficult for him, emotionally, to see this family, to realize Andy Lopez 13-year-old," said Terry Leoni. "That doesn't lessen the fact at that moment he was faced with what he believed was an AK-47."
But, as the ongoing protests have indicated, many simply do not believe Gelhaus or the police.
"We will stick to this," said a noticeably upset Nicole Guerra. "We don't care how long it takes; justice is going to be served."